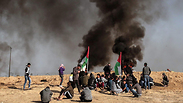 Riot near Gaza border
Photo: AFP
A 59-year-old Palestinian farmer travelling near the Gaza security barrier was shot dead Saturday by an IDF force defending the Israel–Gaza border near Khan Yunis at the southern part of the Strip, Gaza Health Ministry said in a statement.

Officials in the strip say the farmer, Muhammad Abu Jamea, was critically wounded and succumbed to his wounds shortly after.

According to the IDF, a Palestinian suspect approached the southern Gaza perimeter fence and fled after an IDF force "fired warning shots." The IDF added they were "checking the Palestinians' claim that the man was hit."

On Thursday, IDF forces have neutralized an explosive device disguised as a Palestinian flag placed near the border fence in the southern Gaza Strip.

The IDF Spokesperson's Unit said the device was placed there two and a half weeks ago during Palestinian demonstrations, along with a similar charge placed in the region that detonated last month, wounding four soldiers.

Palestinian sources reported the Israeli Air Force attacked several targets in the Gaza Strip in retaliation to the detonation, some of which were Hamas outposts. The attacks seemed to mostly target the outposts and rocket launch nooks and armament storages. No Palestinian Islamic jihad assets were targeted.