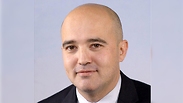 Additional suspect in Bezeq affair: Netanyahu's right-hand man as communications minister
Eitan Tzafrir, former chief of staff at Communications Ministry, questioned by police's Lahav 433 Unit on suspicion of breach of trust; lawyers deny reports he signed a state's witness agreement, say 'he wasn't involved in any way in decisions related to Bezeq.'
The name of an additional suspect in the Bezeq affair (also known as Case 4000) was cleared for publication Monday morning: Eitan Tzafrir, the former chief of staff at the Communications Ministry while Prime Minister Benjamin Netanyahu served as communications minister.

Tzafrir, who is suspected of breach of trust, was detained for questioning last week, answered his investigators' questions and was released without any restrictions.

On Friday, Tzafrir was questioned by the Israel Police's Lahav 433 Unit. Simultaneously, police also questioned the prime minister, his wife Sara, Bezeq's controlling shareholder Shaul Elovitch and his wife Iris, as well as Netanyahu's former media advisor, Nir Hefetz.

Attorneys Tal Shapira and Ariel Kafri, representing Tzafrir, offered the following comment: "Tzafrir isn't a state's witness, and any report indicating he has signed such an agreement does him injustice.

"He served in the position only several months alongside Avi Berger, the director-general who preceded Shlomo Filber. He resigned from the Communications Ministry as soon as Filber took office. He has no knowledge of whatever happened after his departure and wasn't involved in any way in the decisions related to Bezeq, which were all approved after his departure. Tzafrir will keep cooperating with the investigators to help them reach the truth."

Tzafrir was appointed chief of staff at the Communications Ministry in December 2014, shortly after Minister Gilad Erdan left and Netanyahu took over. At the time, he was tasked with supervising the professional staff on behalf of the prime minister. Police suspect he was also involved in matters benefitting the Bezeq telecommunications company and its owner, Shaul Elovitch, and are investigating whether he did so as part of an alleged bribery system involving Netanyahu, Elovitch and Hefetz.

A Calcalist report from back then, titled "All the prime minister's men," defined Tzafrir as the acting communications minister. His term was marred by tensions with former Communications Ministry Director-General Avi Berger, who served under Erdan, which included considerable differences of opinion. Berger said at the time that Tzafrir had made a quick request on behalf of Netanyahu to receive an expert opinion against Channel 10, but Tzafrir denied submitting such a request.

Tzafrir left the Communications Ministry in June 2015 following the appointment of Shlomo Filber, who recently signed a state's witness agreement in the Bezeq affair, as the ministry's director-general.

Tzafrir was considered a close associate of Nir Hefetz, who was placed under house arrest Sunday after about two weeks of detention.

Police suspect that Bezeq received benefits worth about NIS 1 billion in return to favorable coverage of Netanyahu and his family in the Walla! website, which is owned by Elovitch. Upon Netanyahu's return from Washington later this week, police investigators will likely ask to question the prime minister once again.

Ynet reported Sunday that police had summoned Bezeq CEO Stella Handler, who is suspected of bribery, for questioning under caution over the weekend as part of the investigation into alleged corruption at the telecommunications giant, and surprised her by setting up a confrontation with state's witness Shlomo Filber.

"You knew about everything that was going on," the suspended Communications Ministry director-general accused Handler, noting that he had held personal meetings with her set up by strategic advisor Eli Kamir, who was Bezeq's advisor at the time and who was also questioned in Case 4000.

"We met—me, you and Eli Kamir—on the Bezeq thing," Filber said, alleging that some of the meetings were held late at night in Kamir's private residence.

Handler, who denied any wrongdoing throughout her days in custody as well as in her court appearances, continued maintaining that everything she did "was for Bezeq and within the confines of the law."