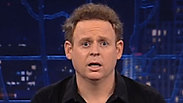 Lior Schleien
Photo: Channel Ten
'Hefetz tried to convince Channel 10 not to air satirical show'
Channel 10 sources say former PM adviser-turned-state's-witness Nir Hefetz called CEO Yossi Warshavsky in Jan 2015 to pressure him not to put Gav Ha'Uma on air after it left Channel 2, saying show creator Lior Schleien 'is against the prime minister.'
Nir Hefetz, the former media adviser to Prime Minister Benjamin Netanyahu, who became a state's witness, has tried to convince Channel 10 CEO Yossi Warshavsky not to air satirical TV show Gav Ha'Uma because the show is critical of Netanyahu.

The show, previously named Matzav Ha'Uma ("state of the nation"), was dropped by Channel 2's Reshet network in January 2015 after five years on air.

The timing was surprising, as Israel was on the eve of elections, the "money time" for satirical shows.

At the time, senior TV sources claimed Reshet decided to get rid of the show after being pressured to do so by close associates of the prime minister, including Hefetz, in messages sent to Udi Angel, one of the owners of the network—a claim they maintain to this very day. Both Angel and the network have denied this claim.

Matzav Ha'Uma's creator and host Lior Schleien decided to take his show to Channel 10 and change its name to Gav Ha'Uma ("the nation's backbone").

Hefetz had apparently received advanced notice of the move to Channel 10 and tried to press Warshavsky not to sign with Schleien even before news of the deal broke out in early January 2015.

Hefetz sent Warshavsky a message along the lines of "How can you put Matzav Ha'Uma on air after Reshet got rid of the show because of its style?"

Channel 10 sources said Warshavsky ignored the message and received an angry phone call from Hefetz.

"He was yelling like a madman," one source said. "He boasted the fact Reshet decided to drop the show, demanded that Yossi didn't sign with Schleien, and explained: 'Schleien is against the prime minister.'"

At the time, Channel 10 was waiting to receive a new 15-year broadcasting license from the state. "Officials at Netanyahu's office thought they could have us by the balls over Schleien," a Channel 10 source said. "They were very surprised when it didn't happen."

Both Hefetz's lawyer and the Prime Minister's Office declined to respond to the report.

The office of Reshet owner Udi Angel stressed: "Nir Hefetz has never spoken to Udi Angel about the show Matzav Ha'Uma."

Reshet, meanwhile, claimed Schleien was the one who initiated his show's departure from the network, telling Reshet he had already signed with Channel 10 after failing to reach understandings with the network both on salary and his desire to have a changing panel of hosts rather than a permanent one.

"In any case, Reshet regrets Lior's choice to leave the network, but if he wants to come back, we will be happy to have him. Reshet is not responsible for anything allegedly being said or written by Nir Hefetz or anyone else, or for unnamed sources that are quoted in this story. The only thing Reshet is responsible for is its programing, of which it is proud," the network said.

Channel 10 said in response, "We welcome any examination of the attempts made by political elements to take over and influence media in Israel. Fortunately, Channel 10 has been able to maintain the freedom of the press and the freedom of broadcast throughout."