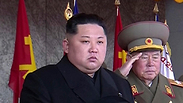 North Korean strongman Kim Jong Un
Photo: AP
N. Korea says willing to hold talks with US, temporarily halt nuclear program
President Trump's aggressive diplomacy possibly pays off, as South Korean delegation visits isolated North, reaches agreement to hold joint summit, talks with US on denuclearization and halt nuclear program in meantime; Kim tells delegation time to 'write a new history of national reunification,' while Trump tweets, 'We will see what happens.'
North Korea is willing to hold talks with the United States on denuclearization and will suspend nuclear tests while those talks are underway, South Korea said on Tuesday after a delegation returned from its northern neighbor where it met leader Kim Jong Un.

National Security Office head Chung Eui-yong recounted the North said during the talks it was prepared for "openhearted talks" with the United States on issues relating to denuclearization and normalizing relations between Pyongyang and Washington.

"North Korea made clear its willingness to denuclearize the Korean peninsula and the fact there is no reason for it to have a nuclear program if military threats against the North are resolved and its regime is secure," Eui-yong told a media briefing.

He also cited the North as saying it would not carry out nuclear or missile tests while talks with the United States were underway. North Korea has not carried out any such tests since November last year.

Kim Jong Un told the visiting delegation that it is his "firm will to vigorously advance" inter-Korean ties and "write a new history of national reunification," the North's official news agency said on Tuesday.

"Hearing the intention of President Moon Jae In for a summit from the special envoy of the south side, (Kim Jong Un) exchanged views and made a satisfactory agreement," said Korean Central News Agency (KCNA) of the meeting that took place on Monday.
Joint Korean summit slated for April
South Korea said it had agreed with North Korea to hold summit talks in late April. South Korea's presidential office also said Tuesday that the countries have agreed to set up a telephone hotline between their leaders.

Kim Jong Un gave orders for "practical steps" regarding the letter from Moon that was delivered to him by the delegation and that sought to convene the summit, KCNA said without elaborating.

The delegation marked the most senior officials to meet with Kim Jong Un since he inherited leadership from his late father, Kim Jong Il, seven years ago.
US 'cautiously optimistic'
The Pentagon has nevertheless said it was "cautiously optimistic" about the North-South talks, which resumed in January for the first time in two years. The Americans made clear to North Korea that no negotiations could take place without the isolated country's denuclearization—a demand summarily rejected by the communist North.

It appears, however, that in the wake of the South Korean delegation's visit the North has softened its stance on the matter.

President Donald Trump, in the first US response to reports following talks between North and South Korea and possible further negotiations, said on Tuesday, "We will see what happens."

The two Koreas relations have warmed considerably recently. Détente between the two countries began with North Korean participation in the Winter Olympics held in South Korea, and continued with Kim's sister, Kim Yo-jong, visiting the Pyeongchang games.

The Koreas are to hold working-level talks ahead of the summit between Kim and liberal South Korean President Moon Jae-in. If realized, it would be the third-ever such a meeting since the Koreas' 1945 division.

The two past summits, in 2000 and 2007, were both held in Pyongyang between Kim's late father, Kim Jong Il, and two liberal South Korean presidents. They resulted in a series of cooperative projects that were scuttled during subsequent conservative administrations in South Korea.

The Associated Press and Reuters contributed to this report.