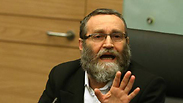 MK Moshe Gafni
Photo: Amit Shabi
Haredi MK implies Netanyahu might not want to resolve coalition crisis
'There isn't a deep crisis that cannot be resolved,' UTJ MK Gafni says amid Haredi ultimatum conditioning support for the state budget in bill recognizing Torah studies as equal to military service; 'Making this unsolvable is making a mockery of things. I can solve the problem in 10 minutes. I don't know who doesn't want to solve it.'
United Torah Judaism (UTJ) MK Moshe Gafni implied Wednesday morning that Prime Minister Benjamin Netanyahu might not want to resolve the coalition crisis over the Haredi party's conscription bill proposal, after Netanyahu warned that if no solution is found, elections will be called.

UTJ has threatened not to support the 2019 state budget unless an IDF conscription bill, which would solicit state recognition of Torah studies to being equal to military service, is brought for a vote and passed in the Knesset first.

"The crisis on the draft law is entirely solvable. There's no reason a solution can't be found. But apparently someone is not interested in that," Gafni said.

"There isn't a deep crisis that cannot be resolved. We believe that those who study the Torah—anyone for whom 'Torato Umanuto' (Torah study is his job)—needs a postponement (of IDF service), we've always said this. The High Court of Justice rejected it. We need to prepare (the amendment to the law). It takes some time," he explained.

"Making this unsolvable is making a mockery of things. I can solve the problem in 10 minutes. I don't know who doesn't want to solve it. We haven't received a proposal, and neither has Aryeh Deri," Gafni added.

Education Minister Naftali Bennett stressed Tuesday that "the heads of all parties in the government are interested in preventing Israel from being dragged to an election campaign that would waste billions of shekels. This is why we're all working in coordination to promote legislation that would allow returning to the gradual drafting of Haredim. I'm very optimistic and believe we can resolve the crisis at the beginning of next week and continue the responsible management of the state."

Economy Minister Eli Cohen (Kulanu) told Ynet his party, which is led by Finance Minister Moshe Kahlon, will not compromise on the budget.

"We explicitly said that if the state budget is not approved in the current (Knesset) session, we're going to elections," he said. "You can't turn the budget into a tool for extortion."

Cohen added the next three days are critical and would tell whether Israel is heading for elections.

He rejected UTJ leader Yaakov Litzman's demand to pass the draft law amendment in the coming week, saying, "It's not possible to pass the legislation in second and third readings in a week from today. Even Litzman knows this. It's unreasonable and not serious. And I think it's also the wrong move for Israeli society and the Haredi sector."

Cohen was outraged by the Haredi ultimatum. "What are we going to tell the disabled people who need to get their benefits by the end of the month? What are we going to tell families waiting for afternoon child care facilities? We made commitments, and we are passing a budget with important news for Litzman as well—the nursing care reform, health budgets, things he was part of," he said.
Disagreements within UTJ
But not all ultra-Orthodox MKs are of the same mind. While MKs Gafni, Ya'akov Asher and Uri Maklev from the Degel HaTorah faction of UTJ are willing to settle for the draft law amendment to pass in a preliminary reading, Deputy Health Minister Litzman insists on the legislation passing in all three readings and being made into law before supporting the state budget.
Litzman was quoted by Haredi newspaper HaModia on Wednesday morning as saying that "any new proposal submitted to the Haredi representatives about the amendment to the draft law would have to be approved first by the Moetzes Gedolei HaTorah (Council of Torah Sages). We will know how to act based on their decision."
Until UTJ's spiritual leadership decides differently, however, "our demands haven't changed and we're sticking to them," Litzman added.
For lack of a better option, the ruling Likud party is considering the option of promoting the 2019 budget with the more moderate UTJ members. This option remains problematic for Netanyahu, who would rather not start a rift with the Ger Hasidic dynasty, to which Litzman belongs. Either way, all eyes are now on the prime minister, who will return from the US on Friday.
Deputy Minister Meir Porush (UTJ), meanwhile, rejected a compromise to the crisis that entails a more moderate version of the draft law amendment, which does not include a Basic Law that recognizes the value of Torah studies.
Such a compromise, which would help those who oppose the legislation "swallow the bitter bill," will not be enough to guarantee the status of yeshiva students and their immunity from being called up for IDF service.
"The legal advisers who have been accompanying us in recent months have expressed an unequivocal position: only if we tie the draft law to a Basic Law: Torah Studies, we have a chance to deal with the High Court's attempts to cancel the laws passed to recognize the status of yeshiva students," Porush said. "That is why the coalition partners need to hear from us clearly that this is the demand and there is no other option."