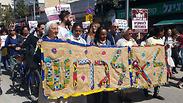 Hundreds march in support of African migrants in south Tel Aviv
Activists march in support of illegal African migrants as deadline draws closer for them to either leave Israel of their own volition or face imprisonment; 'On International Women's Day women march in Israel and abroad. In south Tel Aviv we do so with asylum seekers,' says activist.
Some 500 activists marched along the streets of south Tel Aviv on Friday afternoon in solidarity with illegal African migrants and asylum seekers, mainly from Sudan and Eritrea, who have been marked by the government for deportation to Uganda or Rwanda or face imprisonment in Israel.

The protesters carried placards welcoming the migrants and criticizing the government's program.

"Stop the deportation," "Women say no to deportation" and "We demand rehabilitation of our neighborhoods and examination of asylum requests" were some of the slogans written on the banners and placards.

Other activists waved flags from different countries while some chanted "Refugees welcome here" in English.

March in Tel Aviv (צילום: ניצן דרור)

The march began on Matalon street and continued for approximately 500 meters until Lewinsky Garden near Tel Aviv's central bus station where leading activists addressed the crowds.

"I am happy to see many people and am proud of the support that we have gained," said Helen, who manages the Center for Eritrean Women. "I am proud of the women who are showing that Sudanese, Eritrean and Israeli women can bring about change together."

Shula Keshet, a resident of Tel Aviv's Neve Sha'anan neighborhood and founder of the South Tel Aviv Against Deportation movement pointed out that the march almost coincided with International Women's Day.

"On International Women's Day women from Israel and abroad march and south Tel Aviv women do so with asylum seekers," she told Ynet.

"Our call is that women are for justice and equality, against deportation and for south Tel Aviv. This is a strong statement by hundreds of men and women who came to support us. We are acting for feminist equality every year, and we also support the asylum seekers for the sake of justice."

As has become common during such marches, other residents from the area, which has been seriously affected by the wave of illegal migration in recent years that swept through Israel's once-porous southern border, staged a counter rally by the "The Front for the Liberation of South Tel Aviv" led by Sheffi Paz supporting the deportations.

In January, Israel began notifying thousands of Africans who entered the country illegally that they have three months to leave or face incarceration. They have until the end of March to decide.

The Population and Immigration Authority called on migrants at the same time from Sudan and Eritrea to leave "to their country or to a third country," meaning Rwanda or Uganda. Those who leave by the end of March will be given $3,500, along with airfare and other incentives.