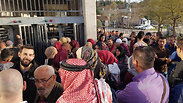 East Jerusalem residents at the Population Authority's offices
East Jerusalem residents decry Population Authority waiting times
Residents of the eastern portion of the capital are forced to wait for six or more months to receive appointments at the Wadi al-Joz offices of the Population Authority; 'It's abuse, there's no protection from sun or rain,' resident complains; Authority says steps 'under review' to correct situation.
East Jerusalem residents have been complaining of being forced to wait for months at a time to receive an audience at the Population and Immigration Authority's offices in the Wadi al-Joz neighborhood on the eastern side of the capital.

When an appointment is finally made, they said, they have been forced to wait for long hours under dire conditions, without cover from the sun or rain.

In order to make an appointment at the Authority's offices, east Jerusalem residents visit its website and ask for one. Several days later, they receive information of the appointment, with many of them claiming they received dates six months or more later.

Congestion at the offices is so enormous, moreover, that dozens of people arrive in the wee hours of the morning to receive an optimal place in line. "We wait outside the building for hours and sometimes go home without ever having received service," one resident said. "There's no cover to protect those waiting from the sun, rains or cold."

Said Salim, a resident of the Mount of Olives, said, "I'm an Israeli citizen and am not able to issue a passport for my wife, my children and myself. If I have one issued at Ben Gurion Airport it'll cost a fortune. I can't book an appointment either and no one answers the phones. Why this disrespect? We can't even take out a new I.D. card. They're abusing us."

Khana Khouri, another east Jerusalem resident, said, "It pains us that there's no other branch to spread the load. I personally booked an appointment and received confirmation only eight months later. It's abuse and cannot go on. We've contacted those responsible and they promise to solve it every time, but unfortunately nothing is done."

Aatdal Alabassi from the Silwan neighborhood said this week, "I'm diabetic and have a problem with both my legs. I booked an appointment four months ago and only received word to come in today.

"I'm a sick woman in need of the Population Authority's services, but it seems they don't care about the sick—we aren't people to them. They have to open more branches in east Jerusalem. Where else could we go?"

Ahmad, another resident, said, "People arriving to the Wadi al-Joz office are abused. I've never seen anything like it in the Jewish sector, only in ours. Elderly people, pregnant women and children come in, but they're all degraded. Sometimes people here pass out and need medical attention.

"It's the second time I've been back here. The first time I waited for hours and ended up not being allowed in. Today I'm going to insist—scream and cause a scene. Let them arrest me."

Ismail Ottman, a public official from Abu Ghosh, attempted to ameliorate the situation. "The situation is critical," he said. "Today, after a Ynet reporter and cameraman came here, the Population Authority's security asked not to film here and let the people waiting in line inside.

"Some of the people who arrived later thought the offices were closed, because they're not used to not seeing long lines stretching outside. We'll continue our struggle. I've contacted MKs and others, but we're still tackling a major problem. I hope the suffering can end."

The Population and Immigration Authority provided comment, saying, "The issue has been at the top of the list of priorities for a while and steps are currently under review to alleviate congestion, including searching for (a site for) another office to provide responses and services to the east Jerusalem populace."