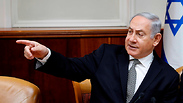 PM dictates terms for resolving coalition crisis, but no deal struck
Two-hour meeting held by government party heads to salvage fractured coalition and stave off early elections concludes with Netanyahu demanding that Moshe Kahlon's Kulanu party back Haredi amendment to conscription law, that Lieberman allows time for ultra-Orthodox parties to formulate new wording.
A coalition meeting held on Saturday night in a bid to resolve an ongoing crisis regarding the IDF conscription law concluded with Prime Minister Benjamin Netanyahu setting out a list of terms designed to restore unity, but without any final agreement.

During the meeting that lasted two hours and finished just after midnight, the prime minister instructed that the phrasing of the amendment bill to the conscription law being sought by the ultra-Orthodox parties, that would essentially facilitate exemption from military service for yeshiva students, be agreed upon by all the Haredi parties and Attorney General Avichai Mandelblit.

In addition, the prime minister demanded that Finance Minister Moshe Kahlon (Kulanu) and his party support the bill in all three readings.

Defense Minister Avigdor Lieberman (Yisrael Beytenu) was also instructed, along with all other factions, to allow for the efforts to salvage the coalition to take place, to continue to cooperate in the long run and remain in the government.

The crisis erupted in recent weeks when the Council of Torah Sages demanded that Deputy Health Minister Yaakov Litzman's United Torah Judaism (UTJ) make his support for the 2019 state budget dependent on the passage of an amendment to the current conscription law that would solicit state recognition of Torah studies to being equal to military service.

The amendment Litzman is seeking to the current law would essentially facilitate exemption from military service for yeshiva students.

As the political turmoil developed, Netanyahu faced mounting pressure to hold the increasingly fragile coalition together and outline a solution in time for vote on Kahlon's keystone legislation in the Knesset, scheduled between 13 - 15 March. The budget will discussed day and night in the Knesset Plenum during the two days.

On Friday, Lieberman continued a second round of attacks on Haredi political parties in the government over their role in creating the ongoing crisis that is threatening to tear the coalition apart.

"The bill currently being drafted is not a compromise, but rather a surrender to extortion. Anyone who wants to get into extortion should surrender," Lieberman wrote.

He then threw a new spanner into the works by toughening his stance and declaring his reluctance to accept any phrasing of the amendment by political rather than military officials outside the defense establishment.

On Saturday evening, he tweeted: "In life, there are moments in which you have to go with what you believe and not with what pays off. Now is that time."

The Knesset is scheduled to adjourn its winter session on March 18, despite a series of initiatives that have been floated in the past calling for its extension.

Kahlon already threatened days ago to quit the coalition if his state budget was stifled by the Haredi parties.

"I cannot continue to function and serve as finance minister if the budget does not pass by the end of the session," he said.

"There's no relation between the draft law and the state's budget," Kahlon stressed. "I call on my friends to return to their senses. If the budget does not pass before Passover, I'll recommend to my friends to withdraw from the coalition. Israelis will sit down to the Seder meal either with a budget or without a treasury minister."

With the prospect of early elections simmering, Yesh Atid leader Yair Lapid announced on Sunday morning that his party would not join a government headed by Netanyahu if he is indicted in his corruption investigations.

"For anyone who didn't understand, and especially for those who insisted on not understanding: Yesh Atid will not sit in any government in which a prime minister has been indicted, under no conditions," Lapid tweeted.

"If Netanyahu wants elections in June, he won't get them," said a coalition official on condition of anonymity.

"To dissolve the Knesset and prematurely call elections he has to agree on a date. All coalition partners are against calling early elections over this fake crisis and the vast majority of MKs in the Likud are against it."

"It's Netanyahu against 119 MKs," the official added. "He wants us to give his elections on a silver platter because that is what is comfortable for him and what suits him. He's on a high in the polls and from the euphoria of the US visit and he thinks this is the best time from his point of view. But it won't happen."

Some have speculated that the crisis is a mere ploy to let the government unravel itself, thereby providing a pretext for Netanyahu to call elections, bolster his mandate and extricate himself from the net of corruption investigations closing in around him, while simultaneously demonstrating his indispensability in keeping a coalition together.