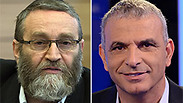 UTJ MK Gafni (L) and Finance Minister Kahlon
Photo: Ohad Zwegenberg / Yaron Brenner
Kahlon, Haredim exchange barbs amid coalition crisis
Amid Haredi threats not to support the 2019 state budget if draft law is not passed before, Kahlon warns 'Israelis will celebrate Seder night with a budget or without a finance minister,' to which UTJ MK Gafni replies 'then let there be Seder night without a finance minister.'
Finance Minister Moshe Kahlon stressed on Tuesday that he does not intend to compromise on the 2019 budget, warning that "the people of Israel will sit down to celebrate Seder night with a budget or without a finance minister."

The United Torah Judaism party (UTJ) threatened last week not to support the 2019 state budget unless an IDF conscription bill, which would solicit state recognition of Torah studies to being equal to military service, is brought for a vote and passed in the Knesset first.

"I won't be able to continue serving as the finance minister if the budget doesn't pass before the end of this session," Kahlon said on Tuesday, reiterating his remarks from the previous day. "There is no sense in tying the (IDF) draft to the state budget."

Chairman of the Knesset's Finance Committee MK Moshe Gafni (UTJ) dismissed Kahlon's warning, saying, "Then let there be Seder night without a finance minister."

Speaking at the Standards Institution of Israel, Kahlon explained that "in order to give (funds) to populations that have been neglected for years, we had to give some money early from the 2019 (budget). So this means that by not passing the budget by the end of this session, we're stopping this (transfer of money) and hurting the weaker populations. They don't care about the draft law."

"I call on my friends to return to their senses," Kahlon continued, vowing "if the budget is not passed by Passover, I will personally recommend government members to quit the government."

Kahlon's representatives met with Litzman's representatives on Monday night to see if a timetable can be set that would allow the passing of both the budget and the conscription bill before the end of the Knesset's winter session.

The late night discussions ended with no breakthroughs, leading Kahlon to quip on Tuesday: "I have a bit of a cold, let's see you spend a whole night with Litzman."

Litzman has rejected attempts to reach a compromise, telling ultra-Orthodox newspaper Hamodia, "We remain steadfast in our demand to pass the legislation in all of its (Knesset) readings before the vote on the budget, and nothing has changed."

In addition to Kahlon, UTJ are in talks with Prime Minister Benjamin Netanyahu's representatives as well as with Bayit Yehudi ministers Ayelet Shaked and Naftali Bennett, who are all trying to find a solution for the crisis.