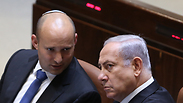 Bennett and PM Netanyahu
Photo: Alex Kolomoisky
Bennett weighs running for PM if early elections called
Lashing Netanyahu for deliberately failing to resolve 'fake and unnecessary crisis' and possibly call early elections, Bayit Yehudi leader says defense minister portfolio may not be enough to satisfy his ambitions in next government; Likud: 'Bennett is seeking to overthrow Netanyahu.'
Education Minister and Bayit Yehudi party leader Naftali Bennett announced Sunday morning that he would consider running for prime minister if early elections were held in Israel caused by what he described as a "fake" coalition crisis.

"If (Prime Minister Benjamin) Netanyahu forces elections on the citizens of Israel for personal and irrelevant reasons, the public will settle the score with him and we will also consider running and going head to head for the premiership," Bennett said in an interview with Ynet.

The crisis erupted in recent weeks when the Council of Torah Sages demanded that Deputy Health Minister Yaakov Litzman's United Torah Judaism (UTJ) make his support for the 2019 state budget dependent on the passage of an amendment to the current IDF conscription law that would solicit state recognition of Torah studies to being equal to military service.

The amendment Litzman is seeking to the current law would essentially facilitate exemption from military service for yeshiva students.

Just hours before Netanyahu convened a meeting with the heads of the coalition parties on Saturday evening in a bid to resolve the disagreements, Bennett accused him of treating Israeli citizens like toys.

"If the prime minister thinks he can tell the whole state 'follow me to the elections', he will show himself to be alone on the hill and lose the nation. Are eight million Israeli citizens his toys? We're taking them to elections a year-and-a-half before it is time?" Bennett asked.

"No one at the moment has a desire for elections. It is bad for the state and the citizens. Elections cost millions in state funds and they should take place in their right time. We are not a third world country," he complained.

"The public needs to know that this crisis is not a crisis. It is fake and unnecessary. Even after we reached a compromise and presented an outline, yesterday more conditions were added," Bennett claimed.

"I said last week and I will say it again: this is a fake crisis. The prime minister could have resolved it within a few minutes. It's not clear what exactly he wants and where he is leading us to."

Insisting that he supports Netanyahu and believes that he generally handles state matters responsibly, Bennett decried the possible "dragging" of the nation to premature elections.

"I support the prime minister because I think that he conducts state business to the best of his judgement. If Bibi was prime minister after managing things well and responsibly, we would support him," he added, referring to the prime minister by his nickname.

"Next time, I would be defense minister and wouldn't run against him. Even though I said I wouldn't run against him, if it turns out that he drags the state to unnecessary elections, I will reconsider everything."

Later on his Twitter page, Bennett reiterated his stance.

"Mr. Prime Minister. As long as you act for the good of the State of Israel, we will continued to be behind you. If you bring the right-wing government down and lead us to unnecessary elections for personal aims, you will lose us," he wrote.

Later in the afternoon, Netanyahu met with the heads of the coalition to discuss the matter of the draft bill further.

"The meeting of coalition heads took place in good atmosphere. There is still no agreed-upon wording between the Haredi parties. Coalition heads are waiting for their draft and after that the discussions will continue in order to resolve the crisis," a statement by the Prime Minister's Office said.

Nevertheless, Defense Minister Avigdor Lieberman did not attend the meeting over his stated anger with the idea that the bill is being formulated by people outside of the defense establishment.

The discussions were therefore swiftly brought to an end.
Likud: Bennett seeking to overthrow the right-wing government
Shortly after Bennett made his remarks, the Likud party accused him of seeking "to overthrow Prime Minister Netanyahu and worrying about organizing a job for himself."
"At a time when Prime Minister Netanyahu is busy with a solution to the crisis and stabilizing the right-wing government, Bennett is busy with a personal electoral campaign," the Likud officials said in response.
"If Bennett was genuinely concerned about a right-wing government, he would commit to staying in the government until the end of its term in November 2019. However, the last thing that interests Bennett is to stabilize the nationalist government headed by Netanyahu. As his comments this morning exposed, Bennett is seeking to overthrow Prime Minister Netanyahu and is worrying about organizing a job for himself."
Rumors of collusion between Netanyahu and defense minister
The coalition meeting held on Saturday night concluded with Netanyahu setting out a list of terms designed to restore unity, but without any final agreement.

During the meeting that lasted two hours and finished just after midnight, the prime minister instructed that the phrasing of the amendment bill to the conscription law being sought by the ultra-Orthodox parties be agreed upon by all the Haredi parties and Attorney General Avichai Mandelblit.

Some have speculated that the crisis is a mere ploy to let the government unravel itself, thereby providing a pretext for Netanyahu to call elections, bolster his mandate and extricate himself from the net of corruption investigations closing in around him, while simultaneously demonstrating his indispensability in keeping a coalition together.

"If Netanyahu wants elections in June, he won't get them," said a coalition official on condition of anonymity on Saturday.

"To dissolve the Knesset and prematurely call elections he has to agree on a date. All coalition partners are against calling early elections over this fake crisis and the vast majority of MKs in the Likud are against it."

"It's Netanyahu against 119 MKs," the official added. "He wants us to give his elections on a silver platter because that is what is comfortable for him and what suits him. He's on a high in the polls and from the euphoria of the US visit and he thinks this is the best time from his point of view. But it won't happen."

"There is an obligation on all the coalition parties that the moment we signed the coalition agreement, he would sign that he wouldn't dissolve the Knesset until November 2019," said the official.

Other officials in the coalition suggested on Saturday night that the toughening of Lieberman's stance on the conscription bill was no coincidence, and was being coordinated with the prime minister to ratchet up the crisis and deliver the coup de grâce.



"It looks like Netanyahu and Lieberman are coordinating and are determined to to bring down a right-wing government over nothing," the official contended.

However, the Prime Minister's Office dismissed the rumors as "nonsense" while Lieberman's offices labelled them as "a crude lie. The claims of coordination are nonsense."

"I think there is a limit to the nonsense and all the slander that can be heard and can be expected from a coalition member. But like I said, there someone seems to be motivated by other things," Lieberman said while addressing new Golani and Givati Brigade conscripts at the main IDF recruitment office.

"I have heard a lot of nonsense but in this case yesterday I heard an extremely senior coalition member who also educates—seemingly educates himself to be defense minister and the prime minister at the same time—and he is giving anonymous briefings," Lieberman mocked.

"I really expect people to leave their personal ambitions aside and deal with to the crux of the matter. Afterall, no one would imagine, for example, that a government initiative or government legislation on taxes wouldn't first pass the review of the Finance Ministry and its minister.

"Here too I would expect all matters relating to conscription are led not by politicians and not by the Council of Torah Sages but by the IDF, the defense establishment and the defense minister."

Lieberman went on to say that he could not understand why anyone would believe that that the likelihood of his party supporting a bill on conscription that had not been assessed by the defense establishment was any greater than Haredi parties supporting a bill for the running of public transportation on Shabbat.

"That's why we are really trying to stay focused on the matter, I am trying to stay as focused on the issues as much as possible," Lieberman said after intimating that he believed that Haredi yeshiva students should also be required to play their part in military service.

"We are all obligated to do one thing: Everyone, every person, must contribute his part to the state he lives in. Everyone's commitment is a guarantor for the other and part of that mutual responsibility is also the readiness of young people, of everyone, to contribute to the State of Israel," he stated.

"I think that it is worth it for people in the political apparatus to adopt this attitude and the same principle."

Culture and Sports Minister Miri Regev (Likud) implied Sunday that if Lieberman withdrew from the coalition, Netanyahu would not be prepared to accept a return to the situation in which his government comprised of a majority of one in the 120-member Knesset.

"We have concluded our Likud ministers meeting and the prime minister repeated that what is important is the stability of the government. One thing that is clear is that he is not prepared to sit with 61 MKs and I hope that Lieberman and the Haredim come down from this tree," Regev said.

If Lieberman does decide to withdraw from the coalition, Netanyahu's already tenuous control of the Knesset would be further reduced to a slender majority of 1, reversing his position to the period before the Yisrael Beytenu leader was appointed defense minister.

"From the prime minister's point of view, he will do everything that is necessary to ensure that the elections are in 2019," Regev continued.

"At the moment, the current situation is in the hands of the Haredim or Lieberman or Kahlon. They will have to reach an understanding. I have no idea why Lieberman wants to go to elections. We're not scared of elections."