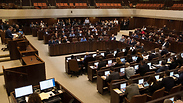 The Knesset plenum
Photo: Yoav Dudkevitch
Meretz, Yesh Atid seek to dissolve the Knesset
In letter to Knesset speaker, MKs Tamar Zandberg and Ofer Shelah argue that if coalition is allowed to raise private bills to a vote in the Knesset, they should be able to do so as well, seeking to raise proposal to dissolve the Knesset and go to elections.
Opposition parties Yesh Atid and Meretz demanded Monday evening to be allowed to raise to a vote a proposal to dissolve the Knesset and go to elections.

In a letter sent to Knesset Speaker Yuli Edelstein, Yesh Atid MK Ofer Shelah and Meretz MK Tamar Zandberg argued that if private bill proposals—such as the ultra-Orthodox parties' draft law amendment—can be brought to a vote on Wednesday, then according to the Knesset's Rules of Procedure, they too can raise to a vote a private bill proposal—to dissolve the Knesset.

So far, the opposition could not raise such a proposal to a vote because the agenda included only government-sponsored bill proposals, but not private ones.

"Following the prime minister's speech and his baseless claims against the opposition for not submitting proposals to dissolve the Knesset at this present time, and your announcement at the Knesset Presidium that on Wednesday, a private bill proposal by MK Yoav Ben-Tzur will be brought to a preliminary reading, we demand on behalf of the Yesh Atid and Meretz parties to raise to a vote the bill proposals on the dispersal of the 20th Knesset, which have been submitted by our factions," the two MKs wrote.

During Prime Minister Benjamin Netanyahu's speech at the Knesset on Monday afternoon, he mocked the opposition for not wanting elections. "I've never seen such a thing, an opposition that is afraid of elections," he said. "An opposition that wants the government to keep serving."

MK Yoel Hasson (Zionist Union) took to Twitter to reject Netanyahu's accusation, saying his party has already submitted a proposal to dissolve the Knesset on Monday morning.

After his speech, Netanyahu met with Edelstein. He might hold other meetings at the Knesset during the evening.

The coalition is facing yet another crisis over the ultra-Orthodox parties' insistence to pass an amendment to the IDF draft law, which would solicit state recognition of Torah studies to being equal to military service, before the end of the Knesset's winter session on March 18, threatening not to support the 2019 state budget if their demand is not met.

But other coalition parties have threatened to quit to government over the issue, raising the possibility of early elections.

Netanyahu reached a compromise with the Haredi parties at a late-night meeting on Sunday, appearing to defuse the crisis. Then on Monday, a junior coalition partner, Yisrael Beytenu, said it would not support the compromise. Talks between the sides were to continue in the coming days.

Opposition members have accused the prime minister of creating an artificial crisis, potentially triggering elections a year and a half ahead of schedule, in order to shore up his position as he fights corruption allegations against him. The thinking is that it would be much harder to force a newly re-elected Netanyahu to step down if he is indicted in the coming months.

The attorney general is expected to make a decision on an indictment by the fall.

The Associated Press contributed to this story.