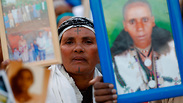 Ethiopian demonstrator
Photo: AFP
Hundreds of people demonstrated Monday afternoon in front of the Knesset building to protest the failure to bring the remaining Ethiopian Jews to Israel.

The protestors, including family members of some 8,000 Jews awaiting aliyah from Ethiopia, protested that despite the government's 2015 decision to address it, the issue was not included in the state budget of 2018 or 2019.

Sefi Belilin, 22, who participated in the demonstration, said that she immigrated to Israel with some of her family members 13 years ago—and since then her two older sisters have been waiting for permission to immigrate.

"I married two years ago, and when I walked to the wedding canopy I felt that they were missing and I did not understand why they could not be with me at this moment," she said.

"How does it make sense that the state prevents my sisters from being with me on such an exciting day in my life?"

The Chairperson of the State Control Committee, MK Shelly Yachimovich (Zionist Union), attacked the government's response to the issue, telling demonstrators that "there is no reason not to accept your family (in this country—ed) apart from racism ... No issue of immigration has been neglected like yours.

"If you were blond and white, your parents and brothers would be here a long time ago."

MK Abraham Negosa (Likud), who immigrated to Israel from Ethiopia in 1985, echoed Yachimovich's assertions.

"We demanded that the government make a decision, and on February 25 the issue was brought to the agenda of the cabinet meeting, but someone deliberately made sure that the issue was last to be discussed and that we won't have time to discuss it," he said.

"Yesterday, March 11, they discussed the issue, but transferred it to another committee. There is money to bring immigrants from Russia, France, South America—but for some reason there is no money to bring in Ethiopian Jews.

"This is discrimination between Jews and Jews, between blood and blood. We call upon the prime minister and the interior minister to make a decision and bring our brothers as soon as possible.

"The situation in Ethiopia is not simple. A state of emergency was declared in the country and the prime minister resigned. Therefore, our families need to be here.

"We will continue to fight until the last Jew arrives in the State of Israel and reunites with his family."