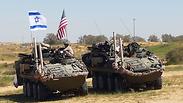 Ground forces in 2018 Juniper Cobra exercise
Photo: Yoav Zitun
Ground forces go into action in joint Israeli-US exercise
After American, Israeli aerial defense forces hold joint training exercise as part of Juniper Cobra drill, infantrymen enter mix, with more than 1,000 US Marines, Israeli paratroopers exercising urban warfare scenarios; 'This increases our already rock solid relationship with Israel,' says Marine battalion commander.
More than one thousand United States Marines and Israeli paratroopers have recently been training in Israel's southern region's Tze'elim base, as part of the massive joint 2018 Juniper Cobra exercise held this month.

With the air defense's parts of the exercise already complete, the two armies have now moved to ground operations.

As part of the drill, forces have practiced tactical urban warfare combat scenarios in regions simulating the Gaza Strip, with simultaneous use of artillery brought by the American forces, taking of enemy targets, covert advancement and dropping troops from American aircrafts such as the V-22—three of which currently circle the skies above Israel's southern environs.

Juniper Cobra's infantry portion (צילום: רועי עידן)

One of the American officers taking part in the exercise noted that his soldiers were learning how to fight underground from their Israeli cohorts, as the experience members of the Paratroopers Brigade have acquired in fighting in Gaza has greatly contributed to the forces' mutual learning processes, as did the American troops' experience gleaned by years of fighting in Iraq.

Lt.-Col. Marcus Mainz, commanding officer of a Marine battalion, said, "We both learn from each other, and we can share our ideas. This increases our already rock solid relationship with Israel."

Speaking to reporters in Tze'elim's urban warfare training ground, Mainz said, "This training exercise is one of the largest undertaken by American infantrymen in the past six years. We're taking the young marines here and teaching them what the 'open door' means and how to observe and study all of the details on the ground.

"The first scenario here is peacekeeping, how we operate in peacetime and patrolling the region to maintain citizens' safety."

Major Eliyahu Asban from the Paratrooper Brigades' reconnaissance battalion noted Juniper Cobra was also Israel's largest training exercise in recent memory. He said, "We're practicing live fire both together and apart, as well as fighting with armored vehicles and learn from each another.

"For the Americans, emphasis is on fighting in large groups. For us, it's more on the singular combatant. We've been working together in the field for the past two weeks, following four months of planning. We've learned how a larger system works."

Major Asban further explained that the Americans, "came with three times the forces we have. American and Israeli troops are moving through the streets here and it seems like a completely organic battalion. Both sides have their own distinct advantages and disadvantages and everyone's learning from one another."

The training exercise also included the IDF's commando brigade, meant to be utilized in special warfare scenarios deep behind enemy lines, such as deploying forces far from the Israeli border.

One officer participating in the exercise with his American counterparts was Lieutenant B., an Egoz division commander, who described one of the differences he noticed between the two armies' infantry protocols.

"There aren't any significant differences in the various fighting techniques, but Americans fight with more troops. The quickness aspect of fighting is brought to bear more at the expense of force security, whereas we secure our men more," he elucidated.

Unlike the American air defense personnel, officers from US ground forces refused to unequivocally commit Monday that they will be shipped to Israel to fight alongside the IDF should the latter require assistance in fighting its enemies, whether from the north or the south.

Lt.-Col. Mainz explained, "We're here only to learn, to train and to share with Israeli forces. I think theoretically you can come up with any scenario where we'll be fighting side by side. The one thing that we know about history is that we don't know, and anybody would be a fool to say, 'That would never happen.'

"I don't know what will happen. If God wills it that we ever need to be side by side, then we will. Marines do that in the best possible manner and we are able to respond to any crisis around the world."