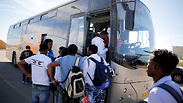 Asylum seekers leave Holot
Photo: Reuters
Holot open detention facility closes
Eritreans and Sudanese who couldn't submit asylum request by beginning of 2018 will be transferred to Saharonim Prison indefinitely, while the 480 who did still await state's answer and will receive a temporary residency visa, which limits where they could live and work.
The Holot open detention center in the Negev closed on on Wednesday evening, despite widespread public criticism of the plan to deport the asylum seekers from Eritrea and Sudan who stayed at the facility.

Ahead of the facility's closure, hearings were held to those who were not able to submit asylum requests by the beginning of 2018 or those whose requests were rejected, and dozens of them will be transferred to the nearby Saharonim Prison indefinitely.

The requests submitted before the beginning of 2018 have not yet been examined, and so those asylum seekers are currently not facing deportation. Interior Minister Aryeh Deri has instructed to gradually release them over the last week.

Upon their release, the 480 asylum seekers still awaiting answers on their requests will receive a temporary residency visa, which limits where they could live and work, barring them from the seven cities that have the largest concentrations of asylum seekers: Jerusalem, Tel Aviv, Ashdod, Eilat, Netanya, Bnei Brak and Petah Tikvah.

Holot was opened at the end of 2013 following a series of government decision and the passing of the "Prevention of Infiltration Law." The facility's declared purpose was to reduce the concentrations of asylum seekers in cities, particularly in southern Tel Aviv. But asylum seekers and aid groups claim the facility was also meant to make their stay in Israel unbearable and thus encourage them to "willingly" leave.

Over the four years it was open, over 13,000 asylum seekers stayed at the facility—all of them men—for different periods of time. In accordance with a High Court of Justice ruling, the maximum stay time was shortened to one year.

Abdet Ishmil, 29, who came to Israel from Eritrea in 2011 and received a temporary residency visa that expired last May, was released from Holot on Thursday after spending 11 months there. Before being sent to Holot, Ishmil lived in Netanya, but now he's not allowed to return there, and he doesn't know where to go. Over the past week, he has been staying at an apartment in Be'er Sheva funded by the "Center for Refugees in the Negev."

"The situation is difficult," he told Ynet. "First, I need to rent an apartment, and that is not simple. In Netanya, they knew me, and I could rent an apartment even without checks. In other places they ask us for checks, but the temporary visa makes it difficult to do a lot of things."

Ishmil said he was worried his asylum request would be rejected and was angered by the fact his friends are being imprisoned in Saharsonim or deported to a third country. "This isn't a solution. Some were killed by ISIS and others drowned in the sea. There are those that no one knows what happened to them. It's dangerous," he said.

Thomas Yans, an Eritrean asylum seeker who stayed at the facility for a year and now lives in Givatayim, is still waiting on an answer to the asylum request he submitted some two years ago. "If I return to Eritrea, I'd be sent straight to prison," he told Ynet. "I escaped there. Why did I do it? Because military service in Eritrea is for life. After you enlist, you're a forced laborer."

Yans said that if his asylum request is rejected, he would prefer going to prison in Israel than leaving for Rwanda or Uganda.

"People die in those countries. As soon as you reach the airport in Rwanda, your documents and money are taken from you. My cousin, who was also in Israel, went to Rwanda, and they took all of his documents," Yans said. "He crossed illegally from Rwanda to Uganda and then to South Sudan and to Libya and he is now in Germany. He's refugee there."
'An end to Israel's cruel policy'
"Over the last four years, NIS 1.25 billion from Israeli taxpayers' money were 'buried' at the Holot facility along with the hopes of the Eritrean and Sudanese refugees of getting temporary protection in Israel," said Sigal Rozen, the head of the Public Policy Department at the Hotline for Refugees and Migrants.
"Almost everyone interviewed by human rights organizations after leaving Israel for Rwanda and Uganda stated that the main reason for their departure was being summoned to the Holot facility," she continued. "There is no doubt Holot served a decisive role in the web of cruelty against the asylum seekers, and we should welcome its closure. Now, the government should heed the demand of a growing part of the Israeli public and stop the cruelty against the refugees completely as well as respect their right for asylum."
The "Stop the Expulsion" group said that "the closure of the Holot facility marks an end to the black stain in the form of Israel's cruel and inhumane policy. Except that it is not humane motives that the state has even now, and the facility's closure marks the beginning of the expulsion operation. On March 24, we call on all Israeli citizens to come to Rabin Square to tell the government of Israel that the people are against the expulsion."
On Friday, children and teens will hold a march against the deportation in Tel Aviv. The event will begin at HaBima Square at 10:30am, and the teens and kids will make their way in silence, accompanied by singer Aviv Geffen, along Chen Boulevard and then to Rabin Square, where a rally will be held.