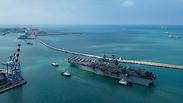 USS Iwo Jima at Port of Haifa
Photo: Erez Simon
The USS Iwo Jima aircraft carrier docked Wednesday at the Port of Haifa, after participating in the massive joint 2018 Juniper Cobra exercise held this month.

The 257-meter-long ship was brought into the port by the port's aisle with the aid of three tugboats.




The Iwo Jima, a Wasp-class amphibious assault ship, will remain in Haifa harbor for four days.

In the port and in the city of Haifa, workers prepared in advance for the arrival of the ship—particularly for the 2,000 sailors and soldiers on board.

Dozens of buses were summoned to take the crew members for tours throughout the country, and the businesses in the lower city and Haifa beaches made sure they were able to accommodate the larger-than-usual number of visitors.

Eshel Armoni, chairman of the Haifa Port Board of Directors, welcomed the ship and its crew, saying he has no doubt "many businesses in the city will enjoy the thousands of visiting American soldiers."