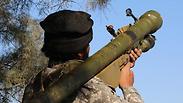 Egyptian jamming of ISIS terrorists disrupts phones in Israel
Egyptian military employs electronic warfare measures against terrorists in Sinai, blocking cell reception in southern Israel; Israeli military and political officials in talks with counterparts in Cairo in effort to resolve the three-weeks-long crisis, so far unsuccessfully.
IDF officers and Defense Ministry representatives met earlier this week with their counterparts in Egypt in an effort to halt disruptions to mobile phone services in southern Israel, a result of Egyptian jamming against ISIS-affiliated terrorists in Sinai.

Egyptian military officials reportedly told their Israeli counterparts at the Sharm El Sheikh meeting that their electronic warfare will continue as long as the fighting against the ISIS loyalists in the Peninsula continues.

Attempts to resolve the three-weeks-long crisis were also done through diplomatic channels, with Prime Minister Benjamin Netanyahu, Defense Minister Avigdor Lieberman and Communications Minister Ayoob Kara all trying to convince Cairo to stop the disruptions – to no avail.

The IDF declined to comment on the meeting in Sharm El Sheikh.

Under President Abdel Fattah al-Sisi, Egypt has quietly cooperated with Israel on security in the Sinai, a desert peninsula demilitarized as part of their US-sponsored 1979 peace treaty but where Cairo's forces now operate freely.

Cairo launched a major sweep of Sinai jihadis loyal to Islamic State on February 9. Israeli officials said that on February 21 Egyptian forces began jamming a range of cellphone frequencies in Sinai, disrupting reception in Israel and the Gaza Strip.

"We've never seen anything this intensive or protracted. Even the Palestinians have been coming to us, appealing to make it stop," one Israeli official told Reuters. Phones had been disrupted as far away as Jerusalem and northern Israel, depending on weather, the official said.

The disruptions make it very difficult to make or receive calls on cellphones in the south, particularly in the Eshkol Regional Council, which is straddling the Gaza-Egypt-Israel border.

In addition, credit card swipe machines used in business, which make use of the cellular network, are almost entirely out of commission. Farmers who use their cellphone to turn on their irrigation systems are also suffering from the reception disruptions.

An Egyptian official confirmed electronic warfare was being waged in the Sinai. "Obviously, we want to stop terrorists from communicating," he told Reuters.

The official denied that Israel was the intended target of the jamming, but he said some Sinai insurgents were suspected of using smuggled Israeli SIM cards, close enough to the border to link up with Israeli cellphone reception, "which means that we may need to work against a wide range of frequencies."

Several Palestinian residents of Gaza, the densely populated enclave on the Egyptian border, told Reuters they had been experiencing problems with phone service.

A source at one of the two Palestinian mobile phone companies said its services were disrupted for a day in the past week in southern Gaza but that the problem had been resolved.

Israeli cellphone provider Partner said several hundred of its customers had complained about reception problems, but that its 4G network was working well. Other leading Israeli providers, Cellcom and Pelephone, did not immediately respond to requests for comment.

Interviewed by Army Radio, Communications Minister Ayoob Kara said: "Without getting into details, for the first time in the south we have been experiencing an uncomfortable situation."

Gadi Yarkoni, a mayor representing Israeli communities near Gaza, criticized the Communications Ministry and threatened to sue the phone companies, saying the failure to fix disruptions "shows disrespect for the residents of the Gaza border communities."

Egypt's military did not immediately comment.

The Multinational Force & Observers (MFO), an international body set up under the Israel-Egypt peace agreement to monitor the Sinai, declined to comment.