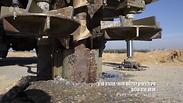 IDF works to seal off tunnel
Photo: IDF Spokesman's Office
The Hamas terror organization claimed Sunday that the terror tunnel Israel has rendered unusable earlier in the day "is an old tunnel that is not being used."

The tunnel, a spokesman of the Izz ad-Din al-Qassam Brigades claimed, "was damaged after Hamas's military wing used it to blow up an IDF post east of Rafah," during Operation Protective Edge in the summer of 2014.

"The announcement of the discovery of the tunnel is a new attempt to mislead and market an illusion of strength and false victories to the Israeli public and the international community," the Hamas spokesman added.


However, the spokesman made no mentioned of the second tunnel the IAF bombed overnight in the central Gaza Strip.

IDF works to destroy terror tunnel (צילום: דובר צה"ל)

Meanwhile, the Coordinator of Government Activities in the Territories (COGAT), Maj. Gen. Yoav Mordechai, mocked Hamas, joking that "With all of the cement, iron, electricity and resources the terror organization Hamas is investing in the tunnels that the IDF effectively eliminates time after time—they could've built a pyramid, a world wonder. However, Hamas's terror tunnels are a world wonder in stupidity."

The tunnel, which was partially destroyed in the summer of 2014, appears to be the first case of Hamas trying to "recycle" part of its devastated network by digging a new tunnel to connect with what was left of the old one, Conricus said.

Running from Rafah in the southern Gaza Strip to the Eshkol Regional Council inside Israel, the tunnel was flooded with materials rendering the whole network unusable.

"We did not use explosives. It (the tunnel) was filled with a certain material, with a certain compound," said the IDF's English-language spokesperson Lt.-Col. Jonathan Conricus, who added troops did not enter Gaza to destroy the tunnel, which reached several meters from the Israeli border but did not cross it.

Another Hamas tunnel was bombed by the Israel Air Force overnight Saturday in the central Gaza Strip. The IAF also attacked other Hamas targets in retaliation for several IEDs that have been planted along the strip's border.

Palestinian sources reported the targets included farmland east of the Zaytun Quarter in Gaza City and two Hamas military posts. There have been no reports of injuries or damage in Gaza.