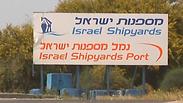 Israel Shipyards
Photo: Shamir Elbaz
The police detained 3 people, among them a senior official of the Israel Shipyards company, on suspicion of bribing a foreign representative to allow defense export deals with an African country worth tens of millions of dollars.

They are also suspected of money laundering, falsifying corporate documents, obtaining by fraud, violating the Defense Export Control Law and tax offenses.

Israel Shipyards has yet to respond to the allegations.

The case is being investigated by the National Fraud Investigation Unit at Lahav 433, in cooperation with the Israel Tax Authority and international law enforcement agencies.

Considered to be one of the largest shipbuilding and repair facilities in the eastern Mediterranean, Israel Shipyards provides both military and civilian services.

It was established by the state in 1959. However, in 1995, after years of underperformance and continued losses under its ownership, the company was privatized and sold. It has since been returned to profitability.

The company is now owned by the Shlomo Group, an Israeli conglomerate and holding group whose chairman is also the chairman of Israel Shipyards' board of directors.