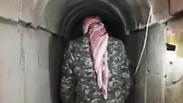 A Hamas-run TV channel which broadcasts in the Gaza Strip, aired at the end of last week a video clip which appeared to be aimed at glorifying the dull and dangerous work carried out by the diggers of tunnels.

The short TV item, likely produced entirely by the spokesperson's unit of the terror group's military wing, was broadcast on the "Al-Quds" channel and also appeared to be aimed at recruiting more activists.

Glorifying Hamas tunnel diggers

The diggers can be seen dragging containers to which sand is transported and digging away as they construct the tunnels. They are also filmed in what appears to be a subterranean resting room where they sit and pray.

The producers of the short video were careful to avoid divulging, however, any details about the nature of the work, its hours, the number of people required for each shift, and also avoided revealing whether it was about defensive or attack tunnels.
'We're digging with primitive means'
The narrator in the video describes the difficulties endured by the workers in the unit, which includes the physical tolls due to their prolonged periods of exposure to the dust underground.

"The soil of the Palestinian people was stolen by the Zionist enemy," one of the workers in the clip says. "Anyone who had their land stolen from them must defend it. That is the privilege of the Palestinian people, and the military wing of Hamas created the way to do it."

"We are using primitive digging tools," explained another worker while digging away using a simple spade inside a tunnel.

"We do everything alone and carry buckets of sand by ourselves. We are doing this so we can pray in the al-Aqsa mosque and to liberate our land," the terrorist adds.

Palestinian prisoners, one digger explains, "are always in their hearts and are their top priority," before promising that the members of the military wing "will do everything" in order to free them.

In the last few years, Hamas has been forced to face significant numbers of deaths to its underground activists due to repeated tunnel collapses.

As a result, the military wing has invested significant efforts in glorifying members of the unit who are charged with an extremely most hazardous task.

The video omits the detail that the diggers, despite the manner in which they are portrayed, receive handsome salaries compared to the low average earned in the strip.