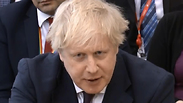 Johnson: Putin to use World Cup like Hitler used Olympics
Agreeing with an MP who said Russia would use the soccer tournament to improve its images, much like Nazi Germany did in the 1936 Olympics, Britain's foreign secretary says it's 'an emetic prospect, frankly, to think of Putin glorying in this sporting event.'
LONDON - Russian President Vladimir Putin will try to bolster Russia's image through hosting the World Cup in much the same way as Adolf Hitler used the 1936 Olympics in Nazi Germany, Britain's foreign minister Boris Johnson said on Wednesday.

Russia is hosting the World Cup this Summer and opposition Member of Parliament Ian Austin said Putin would use the tournament to improve Russia's image, comparing it to when Hitler's Germany hosted Olympics.

Johnson, appearing before lawmakers, said he agreed with that assessment.

"Your characterization of what is going to happen in Moscow in the World Cup, in all the venues - yes, I think the comparison with 1936 is certainly right," he replied. "I think it's an emetic prospect, frankly, to think of Putin glorying in this sporting event."

In response, Russia's foreign ministry spokeswoman said Johnson was poisoned with hatred and anger, and that she found it frightening he represents a nuclear power.

Maria Zakharova added that any comparison between Russia and Hitler's Germany is unacceptable.

"Such parallels... are unacceptable and are beneath the head of a diplomatic body of a European state," she said on her Facebook page.

Johnson was being questioned over the chemical poisoning of former Russian double agent Sergei Skripal in the English city of Salisbury this month.

Britain has blamed Russia for the attack and has expelled 23 of its diplomats but Russia denies involvement.

Britain has also said it will not send ministers or members of the royal family in delegations to the World Cup, but Johnson said it would be unfair on the players for the England team itself to withdraw.

He was concerned however about the safety of English fans and the ability of the British embassy and consular services to protect them.

Clashes between English and Russian fans marred the 2016 European Championship in France.

British police have previously expressed confidence that Russia would deal with any trouble among their own supporters as well as visiting ones.

Johnson said applications to go to Russia for the World Cup were about a quarter of what they were at this stage ahead of the 2014 World Cup in Brazil.

"It is up to the Russians to guarantee the safety of England fans going to Russia," he added.

"At the moment we are not inclined actively to dissuade people from going because we want to hear from the Russians what steps they are going to take to look after our fans."