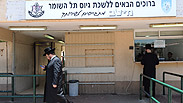 Yeshiva students at an IDF recruitment base
Photo: Yuval Chen
How Haredi civilian service has become a popular way of beating the system
Ynet and Yedioth Ahronoth investigation reveals that what was supposed to serve as an interim solution for an equal share of the burden has turned into a lawless system: Instead of doing what they have been assigned to do, most Haredi civilian service volunteers get hundreds to thousands of shekels a month and go on with their daily life.
Elad, who works in a company based in central Israel, must be a walking miracle: As he serves customers at the place of business in the early afternoon, records show he is physically in the offices of a large NGO several kilometers away, as a civilian service volunteer.

There are many other people like him. Some study, others enjoy life, and some work—but only sometimes—at the association they have been assigned to.

While coalition members keep fighting over an amendment to a low for the conscription of members of the ultra-Orthodox community to the IDF—an amendment which will likely give the Haredim more freedom to choose if and where to enlist—a Yedioth Ahronoth investigation reveals what has been going on in the place which should have served as an alternative for young Haredim who do not enlist but still wish to integrate into the Israeli society: The Haredi national-civilian service.

Simply and unpleasantly put, this seems to be a method of beating the system on an unusual scale. Most of the 1,600 Haredim registered in civilian service are not doing what they have been assigned to do. They receive the money—hundreds to thousands of shekels a month, according to their marital status, and many other benefits—and go on with their daily life.

In some cases, they occasionally show up. For instance, when the coordinators inform them of an expected inspection. In other cases, many of them never come in but arrange for the records to show that they did come in.

In the more radical cases, according to testimonies we received, some leave the money in the coffer of the NGO they are registered with, or split the money received from the Chaverim organization—which manages the national-civilian service—with the NGO managers.

The National-Civilian Service Administration is aware of these figures and of the magnitude of the problem, but is rightly turning responsibility over to the government, which has allocated a budget for only two inspectors. For years, they say, we have been asking for a budget for more inspectors, but the Treasury keeps refusing. The administration, they say, is only the regulator and is incapable of dealing with this mess.

But despite the problems revealed here, National-Civilian Service Administration Director Sar-Shalom Gerbi is visiting Asia these days to regulate and take care of new jobs allotted to young Haredim: A heavenly service at Chabad centers around the world. In other words, yet another 100 young men who most likely won't be supervised by anyone.
An inspection by request
Haredi civilian service was the product of good intentions: To serve as an interim solution for an equal share of the burden. The idea was to allow Haredim from the age of 21 to contribute to the state and integrate into the Israeli society without joining the IDF, and to receive the same rewards and recognition as ex-servicemen.

The problem is that civilian service is voluntary, and not as worthwhile financially as serving in the IDF (less than half the sum) or even studying in a kollel (an institute for full-time, advanced Talmud studies), when it comes to unmarried men. Furthermore, it is met with the strong objection of radical Haredi rabbis.

In spite of these built-in difficulties, the state has set impossible enlistment targets—2,000 people a year—and has been pressuring the National-Civilian Service Administration to meet these targets. But while the army has succeeded in meeting close to 100 percent of its enlistment targets in the past five years, in civilian service the success rate is less than 50 percent in a good year. Last year, for example, the National-Civilian Service Administration succeeded in meeting less than 40 percent of the objective set by the government.

The national-civilian service is divided, in general, into three tracks. The security track is the exception: The police, the fire and rescue services, the Israel Prison Service and organizations like ZAKA and United Hatzalah. About 300 Haredim serve in this track, and our investigation pointed to high attendance rates, especially in positions operated by the authorities.

Another track includes governmental offices and authorities, like the National Road Safety Authority, the Tax Authority and the Law Enforcement and Collection Authority, which don't offer many positions but require workers to punch the clock, resulting in high attendance.

The problematic tracks are the social and educational ones, which include hundreds of associations across the country: Hospitals and psychiatric institutions, famous volunteer organizations like Yad Sarah, but also associations like Shtilim Rakim for children with special needs, which we were unable to find in the Associations Register and on the GuideStar website; the Shmaya organization in Bnei Brak, which doesn't even seem to have an orderly management certificate; the Haifa-based Yafutzu Mayanotecha organization, which aims to educate youth on Judaism; Or Mazal U'Bracha from Jerusalem's Har Nof neighborhood; Orot LaNoar and Kol HaKrayot from Ashdod; Ohalei Tiferet Moshe and Em HaBanim from Beitar Illit; and many more.

A considerable number of these associations are involved in important, genuine charity activity, and young people with ideological motivation and a desire to help might find their place in them. But according to the testimonies and information we have obtained, there aren't many of them.

Sometimes, because of the pressure to meet the enlistment quotas, all these associations are given civilian service positions based on criteria we have been unable to track down so far, with zero supervision. This results in a negative incentive to fill up the positions, including registering people fictitiously, as no one actually checks who shows up and who doesn't.

Those who don't show up gain a particularly profitable deal: A salary ranging from NIS 400 (roughly $116) for single men to NIS 3,800 ($1,104) for married men with children—the majority of volunteers in the security track.

Yoel (not his real name) decided to do civilian service after he had completed an academic degree and had already started working in the field of communications. "I felt uncomfortable about not contributing to the state," he explains, "but it turned out the service is one big joke.

"I'll give you an example of how it works: I'm registered as doing civilian service in an organization affiliated with a famous Hasidic movement, but I never set foot in that place. On the other hand, they have an activist in the organization who works there but doesn't want to do civilian service for ideological reasons. So he comes in every morning, types in my IDF number, and that way they get the money they're entitled to from the state for me. They pay this guy privately, and I get significant benefits too."

At first, Yoel worked at an association dealing with dropout youth. "I had to dedicate to the youth six hours a day, for two years," he says. "Compared to others, I did the service, although not all the hours and days. The coordinators are from the same Hasidic movement, and we had no contact with them at all, which is why you see volunteers who have never set foot in the association. The employer would update us on inspections and brief us on what we should say, and even then, not everyone would show up."

A civilian service source explains, however, that if a supervisor arrives and sees that someone is absent, he subtracts only one day of the payment the person is entitled to. "The associations simply receive jobs and trick everyone," says Yoel. "So when you attend the conference held at the end of the service, you meet people who have no idea where they served."

Apart from the salary, civilian service volunteers receive a release grant of NIS 6,600 for serving in the social track and NIS 8,880 for serving in the security track. Like ex-servicemen, they are entitled to a deposit of NIS 10,080-13,464 later on. Additional benefits include free public transportation, discounts on property tax, national insurance, income tax, daycare and different medical services. They also receive assistance in purchasing a home and in the labor market.

According to the figures we obtained, many civilian service volunteers have also received a scholarship from the Ministry of Religious Services before beginning their service. Together with the salaries, the sum they receive totals tens of thousands of shekels per person. A person doing national-civilian service is supposed to serve an average of 30 hours a week for two years, or 20 hours a week for three years. In practice, the figures we were exposed to show that less than 20 percent of volunteers in the non-security track complete the full hours.
'Working' on holidays
Chaverim, the organization which has been managing the Haredi civilian service program since 2011, operates a system of coordinators, many of whom play along with the trick.

So who does it work? The volunteers, for example, are supposed to mark their own attendance by making a phone call from a landline in the association's offices. In dozens of cases we looked into, they actually did it from a different landline, in their home or in their real workplace. No one bothered to check. And that's what happened when the volunteers marked their own attendance. In more than 80 percent of the cases we examined—way beyond a representative sample—the volunteers' attendance was marked by their coordinators.

The attempt to beat the system is revealed in all its glory in one issue those coordinators haven't taken into account. As most of them are ultra-Orthodox themselves and work according to the Jewish calendar, they didn't notice they were marking attendance for the civilian service volunteers on dates in which there is no chance a Haredi person would work. Our examination revealed, for example, that hundreds of young Haredim allegedly showed up for work at the associations they were assigned to on Jewish holidays and during the Bein Hazmanim period—the vacation time in Jewish Orthodox yeshivot.

Dubi (not his real name), who volunteers in an association for the needy in Jerusalem, demonstrates how it works. "There's a telephone system to mark a person's entry and exit, which you have to call from the landline in the association, but we actually call from our cellphone and no one pays attention," he says.

"As part of my volunteer work, I'm supposed to spend six hours a day at the association, but I finish all my assignments within two hours and spend the rest of the time at my real job. I know they're supposed to have inspections, but in practice no one really checks. Last Monday, for example, I wasn't planning to show up, but then I got a phone call from the coordinator of the Chaverim organization, who told me to come over because I was going to have an inspection. I went there, and no one came to do the inspection in the end. It's really unprofessional."

One of the most amazing figures pointing to the extent of the deception is that, according to estimates, about one-third of those who serve in the social track are people who gave up an exemption from the IDF. Clearly, the deal is so worthwhile that it's a breach they simply can't resist.

Asher, for example, gave up an exemption from military service to apply for civilian service in an educational institution for youth at risk. "I was highly motivated when I arrived, but after a short while I realized it was a joke and that I wasn't contributing anything to anyone," he says.

"I hadn't received any training, and they just sent me to work with youth. At first, I put in a lot of effort, but then I realized no one cares about them. Sometimes, they would send me to run errands for the manager. That's how things work when the association has a workforce it doesn't pay for. Slowly, I started doing a sloppy job. Luckily, I didn't encounter any criticism, and I got all the money of course."

Nachman volunteered for civilian service after getting married and becoming a father. "I heard from a friend that it's really profitable when you're married, so I went for it," he says. "I served for two years in the security track, but in a non-governmental organization, and I was put in charge—along with four other people—of opening a storeroom when someone had to borrow equipment. There were times I would come in once a month or every two months.

"On the other hand, I had to put down my hours and have the employer sign. In the first two weeks I came in, and then the supervisor explained that I didn't have to come in and that he would just sign my hours at the end of the month."

Serving in the track and organization he selected, Nachman says, is the most profitable service. "I'm considered a volunteer in a security organization, and the sums I earn are significantly higher because I'm also married and have a child," he explains. "Most Haredim postpone their military service, and then get married, volunteer and enjoy a nice income. I received 2,500 shekels, which is the basic sum, plus 1,600 shekels from the organization. In my case, the employer and I reached a deal that I would barely show up for work, and in return I would pay the organization back the 1,600 shekels. It was still worthwhile of course, along with the grant, the deposit, the scholarships, and more."

While the basic payment ("subsistence allowance") to a civilian service volunteer is very low, NIS 400 for an unmarried man, most Haredim who volunteer for the service—about 70 percent—are already married and have families, so the sums range from NIS 1,000 if they volunteer for only a few hours to NIS 3883 for a married man with a child who puts in 36 hours a week. Our investigation revealed that about half of the volunteers work in another job simultaneously.

According to a source in the Civilian Service Administration, the only positive incentive is also problematic: Associations that receive positions give the volunteers more money, basically qualifying them as full-fledged employees. "At least it gives something both to the volunteer and to the state," the source says, "but it isn't always legal."
Sharing the profits
Yosef, who runs an association in northern Israel, has several positions for civilian service volunteers. "I had a youth club, so we registered the volunteers there for civilian service jobs, although they volunteered in any case," he says. "There are quite a lot of guys who work to bring people closer (back to religion) or work with youth through an association, and along the way they apply for positions in the association. They're basically diong this job anyway and are getting paid for it. We know about the inspections in advance. They always inform and prepare us."

Who informs you?

"With the local coordinators, one covers the other one's ass. You have to understand, not a single Haredi person volunteers for civilian service for ideological reasons. I know a manager of a Hasidic association in central Israel who received dozens of positions and struck a deal with the volunteers: They get fictitious jobs, and he gets the money.

"One of the associations suggested that I give them volunteers who would get 4,100 shekels—including the salary from the association—while studying in a kollel. When they're needed, they'll be called in. It's worthwhile for the yeshiva students. They're both considered civilian service volunteers and they get a nice salary while actually just studying."

And there is one particularly felonious trick: Dividing the payment received from the state between the volunteer and the owners of the association or the institution. "I get 2,400 shekels a month," one of the volunteers explained, "and give him 1,200. In addition, I get the benefits and the grant, and it says that I completed my service although the only times I showed up was in the rare cases when I was informed that an inspection was about to be held."

"I got similar offers," says Yosef. "Some time ago, a Haredi student came over and explained to me that he had dodged the IDF and had to apply for civilian service for an internship in law. He suggested that I register him and he would pass the money over to me every month. I said, 'Are you an idiot or what?' So he took it back and said he wouldn't transfer the money to my pocket, but as a donation to the association."

While working on the investigation, we received more and more testimonies pointing to complete lawlessness. A basic calculation indicates that the state is pouring at least NIS 30 million a year into a track with questionable success, and that a large part of the volunteers do it just for the unusual incentive to deceive and beat the system.

In a recorded greeting on the Chaverim organization's homepage, Prime Minister Benjamin Netanyahu says: "You are the pioneers leading the way. You contribute to society… Occasionally, I meet you, visit you, and I am deeply impressed by the way you perform your work faithfully and joyfully. You are the best proof that there is a common denominator in the Israeli society. You have succeeded in finding the golden path between your way of life and your faith on the one hand, and the contribution to society and to the community on the other hand… Thanks to you, there is a deep change going on in your communities. Instead of separatism, there is a desire to be an integral part of the Israeli society. You are your communities' ambassadors… I ask you to keep following this path, of serving the nation. You have my full support and appreciation to keep doing your important double activity."

In reality, the path is indeed golden because the project has failed but the volunteers are celebrating with their profit. The money invested in this project could have been easily diverted to other projects for the integration of Haredim, without ant tricks. In the current situation, it seems there will be no escape from allotting huge budgets to fix the situation or, alternatively, closing all the non-security civilian service tracks.

A lot has been said in the past about the lawlessness in the National-Civilian Service Administration, which keeps following the Religious Zionism movement's ministers (from Bayit Yehudi and previous parties) to the ministries they are put in charge of. During Uri Orbach's term, it was subject to the Ministry for Senior Citizens, then it was moved to the Ministry of Science and Technology under Daniel Hershkowitz, and today it is subject to Minister Uri Ariel in the Ministry of Agriculture. When we asked for the ministry's response, they avoided dealing with the hot potato and referred us to National-Civilian Service Administration Director Sar-Shalom Gerbi, who was abroad at the time.

A source involved in civilian service blamed the state for the current situation, explaining that the government was basically encouraging the Haredim to keep studying in the yeshiva till the age of 24, and then to fictitiously volunteer for a social track service.

"There is no reason for an unmarried Haredi person to do civilian service," he said. "On the one hand, the state is pushing to fill up the positions. On the other hand, it's failing to allot supervisors and is unwilling to reward Haredim who are interested in a meaningful service, forcing them to get stuck in the yeshiva for four more years. The way things look now, there will be no escape from a dramatic change, because we're fooling ourselves."
'We abide by every law'
The Chaverim organization offered the following response: "Chaverim operates a system of supervisors according to clear, unequivocal instructions from the National-Civilian Service Administration and abides by every law and regulation. Should we learn of an association and body failing to act in accordance with the clear rules and unequivocal regulations, we shall immediately cease our engagement with them and report it to the administration."

The National-Civilian Service Administration offered the following response: "The administration operates a comprehensive, professional supervision and control system which carries out coordinated inspections and surprise inspection in the different places of service on a daily basis across the country, by the administration's inspectors and by an external inspection company that offers the administration inspection services, as well as by the operating body.

"Furthermore, the administration operates computerized attendance and control systems which show, in real time, the status of service and the exact location. When we receive complaints from volunteers, operating bodies or inspectors and supervisors on the ground about irregularities in the professional conduct, we work together with the Chaverim organization, using a zero-tolerance policy.

"Having said that, in light of the alleged graveness of the findings, the administration's director, Mr. Sar-Shalom Gerbi, has ordered the appointment of a professional committee for an in-depth examination in a bid to deal with the revealed defects.

"As for the civilian service enlistment targets, the reason they are not being met is that the terms of service defined as part of the law for an equal share of the burden discourage, to say the least, young Haredim from joining civilian service. This is something the administration's director has warned of every time the issue has been discussed.

"As we previously explained in the law enactment stages, if the administration's recommendations—particularly in regards to raising volunteers' subsistence allowance and changing the defined age for entering the service (from age 21)—are not accepted, we expect no change in the rate of new volunteers, and we therefore do not expect to meet the set targets at a later stage either."