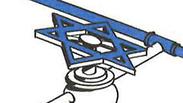 Anti-Semitic caricature appears in Belgian textbook
A geography textbook approved by country's Education Ministry shows overweight Jew asleep in bathtub near impoverished Palestinians with empty bucket; chapter deals with inequality in water distribution between Israelis, Palestinians residing in West Bank; International Legal Forum director: 'Unbelievable that in 2018 Belgium caricatures exist that scream anti-Semitism so bluntly, caricature should be expunged immediately.'
A parent in Bruges, Belgium's seventh largest city, reported to the International Legal Forum NGO that a school textbook for 15 year olds contained an anti-Semitic caricature. The geography textbook was approved by the Belgian Education Ministry and was used throughout the Western European country.

The chapter in which the caricature appeared dealt with purported inequality in water distribution between Israelis and Palestinians residing in the West Bank. The caricature showed an overweight Jew with traditional Jewish payos (or sidelocks) asleep in a bathtub filled with water, contrasted with an old Palestinian woman with an empty water bucket.

The cartoon—which may have come from the international human rights group itself—carried a caption that read, "Amnesty International: Israel is denying Palestinians access to adequate water … While settlers enjoy lush lawns and swimming pools!"

Director of the International Legal Forum attorney Yifa Segal, who is deeply involved in the international struggle against the worldwide Boycott, Divestment and Sanctions (BDS) movement, was astounded by a copy of the textbook she obtained and consequently sent a scathing letter to the Belgian education minister demanding the anti-Semitic caricature be removed summarily.

News of the caricature broke merely a week after an expansive Foreign Affairs Ministry conference on combating anti-Semitism concluded.

"It could scarcely be believed that in 2018 Belgium caricatures exist that scream anti-Semitism so bluntly," Segal said. "This act is not only immoral but also illegal and we demand the caricature be summarily expunged."