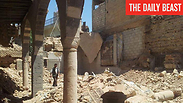 The Jobar synagogue in ruins
Photo: The Daily Beast
Syria accuses Israel of stealing artifacts from ancient synagogue
Damascus' ambassador to the UN alleges 'terrorist groups cooperated with the Turkish and Israeli intelligence services to loot artifacts and manuscripts from the ancient synagogue'; Israeli ambassador dismisses charges as 'another attempt by Syrian regime to draw attention away from the horrible atrocities it commits.'
Syria filed an official complaint to the United Nations this week accusing Israel of smuggling Torah books and precious artifacts from the Eliyahu Hanavi Synagogue in Damascus in a secret operation with Turkey.

Syria's ambassador to the UN, Bashar Jaafari, sent a letter to the Security Council, saying his government "wishes to transmit highly credible intelligence to the effect that the terrorist groups that are active in the area of Jobar, near Damascus, cooperated with the Turkish and Israeli intelligence services to loot artifacts and manuscripts from the ancient synagogue there."

Jaafari went on to claim that "the items were then smuggled through local and foreign intermediaries to Istanbul, where they were received by antiquities experts who certified that they were extremely valuable antique objects. The items were subsequently smuggled to New York."

In the letter, the Syrian ambassador stressed that Syria will "insist on realizing its rights in accordance with international law and the resolutions of the Security Council in order to restore the stolen cultural assets, including those from the synagogue in Jobar."

Jaafari's letter was a response to a UN report about imposing sanctions on terror organizations ISIS and al-Qaeda and their proxies, which included many claims that terror groups operating in Syria receive aid from foreign elements. The ambassador claimed humanitarian conveys coming from Turkey are used to smuggle weapons, funds and logistical assistance to terror organizations operating in Syria.

"We are open and willing to cooperate with the writers of the report and UNESCO and provide the necessary information on the topic," he wrote.

Israel's ambassador to the UN Danny Danon slammed the accusations, calling them "another attempt by the Syrian regime to draw attention away from the horrible atrocities it commits against its own people."

"While the Assad regime continues mercilessly slaughtering innocent civilians and children, Israel continues giving humanitarian aid to Syrian residents and treating Syrian wounded that arrive at its doorstep," Danon added.

The Jobar Synagogue was built atop a cave where the biblical prophet Elijah is said to have hidden, and the prayer hall there is believed to be the place where Elijah anointed the prophet Elisha.

The synagogue is located inside a run-down outer district of Damascus called Jobar, which was home to a large community of Musta'arabi Jews for hundreds of years until the 1800s.

Theft and shelling during the Syrian civil war have damaged the ancient synagogue, one of the oldest in the world. There are conflicting reports about the fate of the artifacts in the synagogue. One report claims the rare Torah books were smuggled out of the synagogue by rebels, but were seized by the Syrian army.