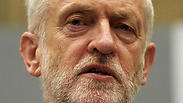 Labor leader Jeremy Corbyn
Photo: AFP
UK Labor leader Corbyn apologizes for anti-Semitism in his party
After 2012 Facebook comment by left-wing leader is revealed in which he expressed bewilderment at anti-Semitic mural being removed, Corbyn apologizes, says he wished he had looked at content more closely; statement followed by another apology, saying, 'We recognize that anti-Semitism has occurred in pockets within Labor Party, causing pain and hurt to our Jewish community in the Labor Party, rest of country. I am sincerely sorry for the pain caused.'
The leader of Britain's opposition Labor Party, Jeremy Corbyn, apologized on Sunday for anti-Semitism within his party, as he faced the prospect of protests over a perceived failure to act on such incidents in the past.

"We recognize that anti-Semitism has occurred in pockets within the Labor Party, causing pain and hurt to our Jewish community in the Labor Party and the rest of the country," Corbyn said in a statement posted on Facebook. "I am sincerely sorry for the pain which has been caused."

Labor has faced persistent criticism in recent years for anti-Semitic comments made by party members and even lawmakers. Corbyn himself was criticized last week for a comment made in 2012 showing solidarity with the creator of a mural deemed by many to be anti-Semitic.

The mural at the center of the controversy was put up on a London East End building in 2012, drawn by a graffiti artist known as Mear One. The mural depicted caricatures of Jews playing a monopoly board put up over the back of people.

Local authorities removed the mural after receiving complaints from residents. Corbyn then made a Facebook comment wondering why the mural was being removed, telling the artist, "You are in good company. Rockefeller destroyed Diego Viera's mural because it includes a picture of Lenin."
I asked the Leader's Office for an explanation about this Facebook post first thing this morning. I'm still waiting for a response. pic.twitter.com/DL8ynBtES4

— Luciana Berger (@lucianaberger) March 23, 2018
The Labor leader responded Friday by saying he wished he had looked at the contents of the mural more closely, and condemning it. But that apology fell short for some, with one Jewish lawmaker in his party describing it as "wholly inadequate."

Corbyn's apology nevertheless allowed several of his party members to speak out in his defense. His deputy, Tom Watson, told BBC, "I'm very, very sorry that people feel hurt by this. I think Corbyn did the right thing by expressing regret for it."

Labor Party Shadow Transport Secretary Andy McDonald defended Corbyn as well in a Sky News interview, saying he didn't have "an anti-Semitic bone in his body."

The row, coupled with persistent ideological differences within Labor over Brexit, threatens to break the delicate truce Corbyn's left-wing leadership had earned from more centrist elements of his party after a stronger than expected performance in last summer's election.

Before Corbyn's statement, Jewish community leaders had announced a protest outside parliament on Monday.

"He never sees or understands the anti-Semitism, whether it is from overseas terrorist groups or local Facebook groups," said a joint statement from two groups representing the community—the Jewish Leadership Council and the Board of Deputies of British Jews.

The Board of Deputies of British Jews and the Jewish Leadership Council said Corbyn's Labour Party has shown a "repeated institutional failure" to address anti-Jewish prejudice. They say that "again and again, Jeremy Corbyn has sided with anti-Semites rather than Jews."

The groups plan to protest outside Parliament on Monday.

Corbyn's Sunday statement did not address the mural comments any further, but he said, "Labor is an anti-racist party and I utterly condemn anti-Semitism, which is why as leader of the Labor Party I want to be clear that I will not tolerate any form of anti-Semitism that exists in and around our movement."

Corbyn also said he would be meeting with Jewish representatives over the coming days.

The Labor leader is well known as a pro-Palestinian and a strident critic of Israel. In a 2009 speech, he called Hamas and Hezbollah "my friends," a statement he recanted and apologized for in 2016.

Corbyn's comments could be construed as conflating IS with Israel

He once again got into hot water with Jews around the world when he said, "Our Jewish friends are no more responsible for the actions of Israel or the Netanyahu government than our Muslim friends are for those various self-styled Islamic states or organizations."

After the ire this statement raised, Corbyn claimed he was not drawing any parallels between Israel and the Islamic State.

The Associated Press has contributed to this report.