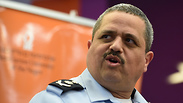 Police Commissioner Roni Alsheikh
Photo: Haim Hornstein
Police chief says no need to be concerned about Land Day
Visiting a Border Guard base, Commissioner Alsheikh says police are 'coordinated with the Arab sector' ahead of planned protests on Palestinians' annual day of commemoration Friday; meanwhile, 468 illegal aliens and 14 terror suspects arrested in wide-scale operation across Israel.
Israelis shouldn't be concerned about Land Day, Police Commissioner Roni Alsheikh said Tuesday morning, referring to the Palestinian protests expected to take place along the Gaza security fence Friday.

"We are coordinated with the Arab sector," he said. "I am unfamiliar with any unusual events in the past 15 years and I don't think anything exceptional will happen this year."

The IDF has been making preparations for the Hamas-organized march towards the border, including reinforcing the obstacles on the border with pyramids of barbed-wire. The army also plans to use advanced measures against rioters.

Speaking during a tour of a Border Guard base in Metzudat Adumim, Alsheikh said: "There are no changes regarding the warnings. There is no increase in plans to carry out terror attacks. We are dealing with this routinely, all year round. The overwhelming majority of terror attacks aren't implemented after being thwarted by the IDF and Shin Bet together with us. The system can't be completely hermetic. The picture isn't any different on the eve of the (Passover) holiday. At the moment, we aren't seeing a worse security situation as we approach the holidays."

As for the Land Day protests, he stressed: "We are working in exceptional cooperation with the Arab sector, which wants to implement its protest. They are doing so in a very dignified manner which is coordinated with us."

As for the army's estimates concerning the situation in the Gaza Strip, Alsheikh said that the police were "prepared for any scenario which the IDF fears or thinks could develop, and we will provide the relevant response."

A wide-scale police and Border Guard operation across Israel has led to the arrest of 468 illegal aliens, including Gaza residents.

More than 2,300 Border Guard and police officers took part in the operation, arresting 14 terror suspects and dozens of people suspected of providing illegal residents with accommodation and employing them.

During the operation, a Border Guard force spotted an abandoned helicopter in the Qalandiya landing pad in the Jerusalem vicinity. An investigation revealed that the helicopter had landed there illegally, carrying two suspects, without the required permits and without a pilot license. Police believe the suspects landed in the same place with a different helicopter about a week ago. The aircraft was confiscated and the suspects were arrested.

Police also thwarted an attempt to smuggle 12,000 eggs through the Jerusalem vicinity crossings. They also located chop shops, illegal slaughterhouses, eight weapons and dozens of kilograms of drugs.