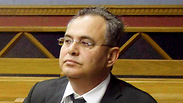 Kobi Alexander
Photo: Reuters
Kobi Alexander, the Israeli-American founder and former CEO of New York-based Comverse Technology, was released from prison Tuesday after serving two-thirds of his jail term.

The State Attorney's Office decided not to oppose the parole board's decision to cut his sentence short.

Alexander was convicted of securities fraud as part of a backdating affair and served part of his sentence in Israel after signing a plea bargain, in which he was sentenced to two and a half years in prison.

Alexander, the Woodbury, New York-based software developer's founder, was sentenced about a year ago by US District Judge Nicholas Garaufis in Brooklyn, who criticized the former executive for trying to avoid justice for so long.

"I really don't understand how someone as brilliant and accomplished and focused and respected as you could be so incredibly, abjectly foolish to make some of the decisions you made," Garaufis said.

The sentence was above the up to two years in prison his lawyers sought, but below the 10-year maximum he faced. Alexander, dressed in brown jail clothing, said he was "truly sorry for everything I have done wrong."

"I deeply regret running away instead of dealing with the justice system like I should have," he added.

The 64-year-old Israeli citizen had been in custody since he pleaded guilty to securities fraud in August 2016, after Garaufis rejected his request for release on a $25 million bond. He is expected to receive credit for his time in jail.

The case was one of the last open US prosecutions arising from government or internal investigations of backdating of stock options at over 200 companies, including Comverse, which was acquired in 2013 by former unit Verint Systems Inc.

In backdating, a company retroactively grants stock options on dates when stock prices were lower, making them more valuable. Concealing the practice through improper accounting is illegal, and can inflate earnings.

Prosecutors said that from 1998 to 2001 Alexander participated in a scheme to use hindsight to select the effective dates for granting options for employees, resulting in misleading statements to investors.

Alexander fled to Namibia with his family in July 2006 amid the investigation. Charges were announced that August against him, William Sorin, Comverse's general counsel, and David Kreinberg, its finance chief.

Sorin pleaded guilty and was sentenced to one year in prison. Kreinberg was spared prison after pleading guilty.

While abroad, Alexander agreed in 2009 to pay $60 million to Comverse in connection with shareholder litigation, and to waive over $72 million in claims he had against Comverse.

He settled related civil government lawsuits in 2010, resulting in a $6 million penalty by the US Securities and Exchange Commission.

In November 2017, Justice Minister Ayelet Shaked approved Alexander's request to serve the rest of his sentence in Israel and he was transferred to Israel from the US in accordance with an agreement between he two countries.