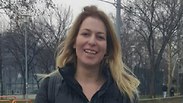 An Israeli woman was left unconscious and in serious condition after falling from the door of a Boeing 737 aircraft onto the runway due to a series of errors made by the flight crew aboard the Czech airline SmartWings.

The 38-eight-year-old woman, Dikla Abitbul from Lod who has two children aged 6 and 13, was on vacation to Hungary and was waiting to take off to return to Israel when a technical malfunction aboard the plane forced the pilots to abort the flight.

Smoke entering plane

According to her mother Rikki, Dikla suddenly fell from the plane onto the asphalt after the emergency doors were opened despite instructions from the captain to keep them closed. "We are praying for her wellbeing and are worried," she told Ynet.

"She didn't slide. She didn't manage to slide. She stood in the doorway of the plane, among the first five passengers standing in line waiting for them to open the evacuation slide," she said.

Rikki added that the strong force of the engines possibly caused her to fall, but it could also have been due to the panic that erupted among the passengers.

"We realized that smoke was coming into the plane. They said that the pilot had asked the flight stewards not to open the emergency doors, but the panic among the passengers forced them to open them. Another man was also injured after sliding down from the plane, not from Israel, but Dikla flew from the door onto the asphalt."

She is said to be in critical condition and has been anesthetized after arriving at the hospital unconscious.

"She underwent an operation on her head, she has suffered rib fractures and has a cast on her arms. That is the situation at the moment. We are staying here in Budapest," Rikki said.

Dikla went to Hungary on holiday with workers from a car rental company and was supposed to return to Israel last week.

"She went on the holiday for five days from work to Budapest and told us the whole time how much she enjoyed it," her mother said. "She bought presents for the children, told us how the snow fell, and then the terrible news came in the morning."

A surgeon and a doctor from Beilinson Hospital at the Rabin Medical Center in Petah Tikva was flown to Budapest to be with the family and provide assistance.

"Dikla's workplace sent a representative who is accompanying us all the time and is making sure we have everything," Rikki said. "We are praying for something good to happen and that she recovers her consciousness. We ask anyone who can to pray for her recovery."

After the incident, the airline brought in a new plane after the technical malfunction was discovered in the original aircraft, which caused an 8-hour delay in the takeoff.