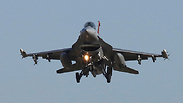 Croatia said Wednesday it will purchase upgraded Israeli F-16 fighter aircraft as it seeks to bolster its defenses amid Russia's arming of neighboring Serbia.

Once formally approved by the government, it will be Croatia's largest single military deal since it split from Serb-led Yugoslavia in the bloody 1991-95 war.

Croatia's Defense Council accepted an Israeli offer that will replace the country's aging MiG-21 fighters.

Zagreb launched a tender offer last year to acquire military jets to replace its outdated Russian-made MiG-21s.

Apart from Israel, the countries invited to submit bids included Greece, South Korea, Sweden and the United States.

The military experts did not specify details of the deal, but previous reports have said it involves 12 used F-16 aircraft worth some $500 million that have been heavily modified with Israeli-made avionics.

Sweden's manufacturer Saab had offered a squadron of new Gripen fighters, but the package was reportedly estimated at some $700 million.

"If Croatia was a richer country, and if our economy was stronger, maybe we could have picked a more expensive offer," Croatian Prime Minister Andrej Plenkovic said. "But, based on the parameters presented to us by our expert team, we believe that we have made a responsible decision which will meet all the needs of the Croatian air force in the next 30 years."

"The defence council... has accepted that Israel made the best offer and gave a recommendation to the government to decide on acquiring" the Israeli planes, the defence council said in statement late Tuesday.

"It is a historic decision... a project guaranteeing Croatia's security and sovereignty," Defence Minister Damir Krsticevic told the state-run HR radio Wednesday.

The minister has said he expected the first jets to arrive in 2020, and the remaining ones by 2022.

NATO member Croatia faces a mini arms race with Russian ally Serbia, which recently received six used Russian MiG-29 fighter jets.

Moscow is attempting to increase its influence in the Balkans, mainly through Serbia.

Associated Press and AFP contributed to this report.