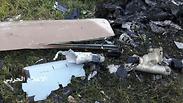 An Israel Air Force drone crashed overnight between Friday and Saturday in an open area in southern Lebanon as a result of a technical malfunction, the IDF said.

"The incident is currently being reviewed. There is no risk of leaked information," the IDF Spokesman's Office said.

Hezbollah's al-Manar TV station reported the drone crash and posted photos from the crash site.

"An unmanned Israeli spy plane crashes between the villages of Beit Yahoun and Baraachit," al-Manar reported.

It said that "a second spy plane targeted it with a guided missile, which resulted in it being destroyed."

Footage of the crash site

Several Lebanese media outlets, among them Al Mayadeen, reported that the drone was equipped with four missiles.

Hezbollah reported the drone was an Elbit Hermes 450 medium size multi-payload UAV.

Other media in Lebanon reported that Lebanese engineering forces closed off the area and were searching for all remnants of the crashed drone.

The IAF drone was on an intelligence-gathering mission in southern Lebanon as part of routine operations, which also included an increased activity of IAF fighter jets in northern Israel.

The Hermes 450 is one of the oldest UAVs used by the IDF.

According to a 2012 article in the British magazine The Economist, such a drone was used in the assassination of Ahmed Jabari, the former commander of the military wing of Hamas. In addition, in March 2009, The Sunday Times reported that the Air Force attacked an Iranian arms convoy in Sudan intended to reach the Gaza Strip using the Hermes 450.

The crash of an IAF drone in enemy territory is considered unusual and would allow Hezbollah to learn its abilities and capabilities and possibly help it develope similar aircraft.

This is the second Hermes 450 to crash during operational activity, with the previous one crash landing in October 2013 near Palmahim Beach.

Estimated to cost around $ 2 million, the Hermes 450, manufactured by Elbit, entered the Air Force in the late 1990s and since then has undergone several upgrades. It is designed for tactical long endurance missions and is used for intelligence gathering missions in all sectors, including Gaza and southern Lebanon.

Reuters contributed to this report.