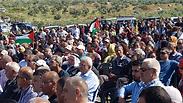 Hundreds commemorate Land Day in Umm al-Fahm
Commemorating protesters killed in 1976 riots over expropriation of Arab lands, Arab residents hold a moment of silence in solidarity with Palestinians shot dead in Friday's Gaza border clashes, say they're willing to sacrifice their lives for the 'martyrs.'
Hundreds of people took part in a rally near Umm al-Fahm on Saturday marking 42 years since Land Day.

The participants held a moment of silence in solidarity with the Palestinians killed in Gaza border clashes the previous day, saying "they died as shahids (martyrs)."

The rally was attended, among others, by Arab members of Knesset Ahmad Tibi, Ayman Odeh, Hanin Zoabi, Abd Al Hakeem Haj Yahya, Yousef Jabareen and Jamal Zahalka, as well as former Knesset Member Osama Saadi And other leaders of the Arab public.

The demonstrators in Umm al-Fahm waved Palestinian flags and shouted, "We will sacrifice our lives for the martyrs." Dozens called to take to the streets and demonstrate, saying "the Israeli government is murdering in cold blood. Speeches will not help, only protests blocking roads."

MK Zahalka echoed the demonstrators' invective, calling the state's actions on the Gaza border a "massacre."

"Israel is executing people to intimidate and scare," he claimed. "We cannot sit and watch it on TV. We must come out and fight in order for Israel to stop the massacre in Gaza. Every person must participate in this struggle. I suggested blocking roads and there are also other proposals. We will not remain silent."

Mohammad Barakeh, former MK and chairman of the High Follow-Up Committee for Arab Citizens of Israel, an organization that represents Arab citizens of Israel at the national level and the body that organized the demonstration, said it is meant to send a message to Israel "that it must stop the massacre" on the Gaza border.

At the same time as the demonstration in Umm al-Fahm, about 100 people, mainly from women peace movements, demonstrated at Yad Mordechai Junction, calling to "lift the siege on Gaza" and chanting, "We will not forgive and will not accept the murder of demonstrators."

Land Day marks events that took place on 30 March 1976 when the Israeli government, headed by Yitzhak Rabin, expropriated Arab lands in the Galilee. In the ensuing confrontations with Israeli security forces, six Arab citizens were killed, about one hundred were wounded, and hundreds of others were arrested.

Over the years, the day came to symbolize Arab national identity on which Arabs demand rights they say they are deprived of.