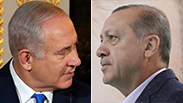 PM Netanyahu and Erdogan
Photo: EPA, AFP
Erdogan tells Netanyahu he's 'weak' and a 'terrorist'
In latest volley in the vitriolic rally exchanged by Erdogan and Netanyahu over IDF's handling of Gaza border unrest, which the Turkish leader was quick to describe as 'inhumane', prompting a response from the Israeli PM, Erdogan says Netanyahu is an 'occupier' and Israel is 'a terrorist state'; PM hits back again: 'He who occupies northern Cyprus, encroaches on Kurdish territory and massacres civilians in Afrin cannot preach to us...'
Turkish President Recep Tayyip Erdogan scorned Prime Minister Benjamin Netanyahu Sunday afternoon for a second time in two days, calling him a "terrorist" after the IDF killed 16 people in Gaza—among them at least 10 Hamas terrorists—and wounded over 1,000 during their mass "March of Return."

"Netanyahu, you are an occupier and at the same time a terrorist" Erdogan said during a speech he delivered in the city of Adana, upping the ante following his previous vitriol against the Israeli premier. "It is known what you have done in Gaza and what you have done in Jerusalem. You have no one that likes you in the world."

His comments are the latest volley in the verbal rally exchanged by Erdogan and Netanyahu, which began after the Turkish leader lambasted Netanyahu on Saturday for what he described as Israel's "inhumane attack" over the weekend.

"Netanyahu said that our soldiers pursue helpless people in the Afrin operation. Netanyahu, you are extremely weak and extremely strange. First of all, get yourself together. Turkey is facing terrorists, you are not. Israel is a terrorist state," Erdogan said in the speech.

Turkey on January 20 launched a cross-border operation against the Kurdish People's Protection Units (YPG) in its enclave of Afrin and the city was captured on March 18.

Ankara has come under heavy criticism from opponents and activists over its own operations in northern Syria.

Netanyahu hit back once again on Sunday evening, listing Erdogan's crimes and guilt in the occupation of northern Cyrpus.

"Erdogan is not accustomed to being answered back to, but he should start getting used to it. He who occupies northern Cyprus, encroaches on Kurdish territory and massacres civilians in Afrin cannot preach to us on values and morals," Netanyahu said, in a later tweet.

Violence broke out on Friday after tens of thousands of people in the Gaza Strip marched near the Israeli border.

Over 1,400 people were also wounded, 758 of them by live fire, with the remainder hurt by rubber bullets and tear gas inhalation, the Gazan health ministry said.

As Erdogan was delivering his remarks, Palestinians reported that a Palestinian youth was seriously wounded in his head during a skirmish with IDF soldiers in the southern Gaza Strip, near the border fence.

Earlier on Sunday, Netanyahu said he would not accept criticism from Turkey over its army's conduct.

"The most moral army in the world will not accept moral preaching from someone who for years indiscriminately has been bombarding civilian populations," Netanyahu wrote on Twitter in response to Erdogan's original invective.

"I strongly condemn the Israeli government over its inhumane attack," Erdogan said during a speech in Istanbul on Saturday.

The protesters were demanding hundreds of thousands of Palestinian refugees who fled or were expelled during the war surrounding Israel's creation in 1948 be allowed to return.

"Have you heard any noteworthy objections to the massacre by Israel that happened yesterday in Gaza from those who criticize the Afrin operation?" Erdogan demanded.

"This is the biggest proof of insincerity of those who fixate on us but say nothing about Israel using heavy weapons to attack people who are protesting on their own lands," Erdogan said, without saying which governments and organizations he meant.

Erdogan on Friday spoke with US President Donald Trump in a call and the Turkish leader said he told Trump: "Aren't you going to intervene here?".

The Turkish leader, a fervent supporter of the Palestinians, often criticizes Israel's policies but the two sides have increased cooperation since the end of a rift in 2016 caused by Israel's storming in 2010 of a Gaza-bound ship that left 10 Turkish activists dead.

Reuters contributed to this report.