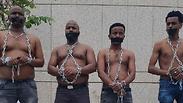 Protest against the deportation
Photo: Barel Efraim
The UN refugee agency expressed "disappointment" on Tuesday over Prime Minister Benjamin Netanyahu's decision to withdraw from an agreement to resettle African migrants.

Under heavy pressure from his hardline political allies, Netanyahu walked back on the deal with the UNHCR, just a day after announcing it at a nationally televised news conference.

Under the deal, the UNHCR would have resettled roughly half of the 35,000 African migrants in Israel in Western countries, while Israel would have absorbed the rest. Israeli right-wingers are opposed to allowing the migrants to remain.

In a statement, the UNHCR said it was disappointed and urged Netanyahu to reconsider. "We encourage the Government of Israel to consider the matter further, while standing ready to be of help," it said.

The UNHCR "continues to believe that a win-win agreement that would both benefit Israel and people needing asylum is in everyone's best interests."

"The Agreement was the result of discussions over an extended period of time, and reflected a shared effort to find a solution that gave international protection to people arriving in Israel fleeing war or persecution while also meeting the concerns of Israeli host communities," the UN agency said.

The agency also thanked the countries that expressed willingness to take in some of the African migrants as a show of support to the agreement.

Netanyahu informed residents of South Tel Aviv on Tuesday about his intention to completely cancel the UN outline, after announcing it was freezing it on Monday.

"I have listened attentively to the comments about the agreement. As a result, and after reevaluating the advantages and disadvantages, I have decided to nullify the agreement," Netanyahu said.

"The decision to establish an Administration for the Rehabilitation of South Tel Aviv will remain in place," Netanyahu pledged. "The administration will begin to operate in the near future, in cooperation with representatives from south Tel Aviv."

During their meeting with the prime minister, the south Tel Aviv residents criticized the UN outline. "It was a huge shock for us. We felt like the state had spat in our faces," one said.

"We realized that the meaning (of the UN deal) was that the infiltrators would remain in south Tel Aviv for a lot longer and that our problem would not be solved."
'Don't turn us into a part of the game'
But some south Tel Aviv residents came out in support of the African asylum seekers in a press conference early Tuesday evening.
"There's solidarity between us and the asylum seekers, despite everything that is being said," Shula Keshet, the director of the Ahoti Movement, said. "As a resident of south Tel Aviv, I feel betrayed once more by the Israeli government, much like all the governments in the past."
Keshet criticized the prime minister's meeting with the Tel Aviv residents who support the deportation. "We were excluded from a meeting the prime minister held with politicos, with wheeler-dealers, who don't know a thing about our wishes," she said.
"No one cares about us. Not the Israeli government or the prime minister. They are just exploiting our distress to justify the expulsion," Keshet charged. "There's a competition—Bennett, the ministers on the right of the prime minister, (are competing to see) who will win the favor of those who call to 'expel, expel, expel' out of insane mania, without truly understanding the situation in south Tel Aviv."
Bisrat Agbariya, 33, an asylum seeker from Eritrea, asked the government "don't use us as a ball, we're people. Don't turn us into a part of the game. Don't use us to create the impression you're helping the people of south Tel Aviv."
She spoke of the hope the outline reached with the UN has brought her. "It looked like an agreement that gives us a safe place as people and protects our rights in accordance with international law. But last night, hope started disappearing," she said.
She turned to all "Jews and Israelis, and all of the south Tel Aviv residents," telling them "Thank you for everything. We're together. This won't break our spirits. It will lift our spirits, and we will work together and be united. Together, we'll turn south Tel Aviv to a peaceful and harmonious place for all."