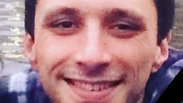 Russian Jew beaten to death in St. Petersburg
Police investigate motives behind brutal murder of 27-year-old Mikhail Verevskoy, who was on his way home when set upon by his attacker; Ahmed Kharsha, 36, arrested as a suspect but released on bail in what police believe may have been a premeditated anti-Semitic murder; Verevskoy immigrated to Israel, served in the army, and was killed as his wife was in labor.
Russian media reported Tuesday that an investigation was opened into the circumstances surrounding the death of Mikhail Verevskoy, 27, who was brutally beaten five days earlier while on his way to his home in St. Petersburg.

The suspect, identified as Ahmed Kharsha, 36, who is a resident of the port city, was arrested on suspicion of committing the crime and was released shortly after on bail.

Russian police said that he was prohibited from leaving the city and added that they have not ruled out the possibility that the motive behind the fatal attack was anti-Semitic.

The incident took place overnight between March 28-29 when Verevskoy was shopping at the local supermarket on his way home when he was suddenly set upon by his assailant.

One Russian news website claimed that the incident occurred following a fight, but now investigators are looking into whether it was a premeditated murder.

On Monday, he was pronounced dead in the hospital, three days before he was to celebrate his 28th birthday and while his wife is in labor.

Verevskoy studied architecture and civil engineering at St. Petersburg State University and immigrated to Israel in 2010, before drafting into the IDF. He lived in Jerusalem until 2012.

He later returned to Russia where he got married and was an active member of the Jewish community and in St. Petersburg's Choral Synagogue. He also volunteered for a non-profit organization for animals.