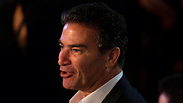 Mossad chief Yossi Cohen
Photo: AFP
Mossad chief '100 percent certain' Iran seeks nuclear bomb
In closed-doors meeting with senior Israeli officials, Mossad chief Yossi Cohen says international community must change or scrap its nuclear deal with Iran, which he called a 'terrible mistake'; Iran 'has never abandoned its military nuclear vision.'
The head of Israel's Mossad intelligence agency is "100 percent certain" that Iran remains committed to developing a nuclear bomb and believes the international community must change or scrap its nuclear deal with the Islamic Republic.

Yossi Cohen, who leads the shadowy spy agency, has been holding discussions about the Iranian nuclear program and delivered his assessment in a recent closed meeting with senior officials, according to a person who attended the meeting.

Cohen called the nuclear deal a "terrible mistake," saying it allows Iran to keep key elements of its nuclear program intact and will remove other restraints in a few years.

"Then Iran will be able to enrich enough uranium for an arsenal of nuclear bombs," Cohen said, according to the meeting participant, who spoke on condition of anonymity because he was discussing a classified security matter.

Cohen also criticized the decision to lift sanctions on Iran, saying it has resulted in "significantly increased" aggression by Iran, and noted Iran's continued development of long-range ballistic missiles.

"As head of the Mossad, I am 100 percent certain that Iran has never abandoned its military nuclear vision for a single instant. This deal enables Iran to achieve that vision," Cohen said. "That is why I believe the deal must be completely changed or scrapped. Failure to do so would be a grave threat to Israel's security."

Cohen's comments come amid an intense international discussion about the future of the 2015 nuclear deal, in which Iran agreed to curbs and inspections on its nuclear program in exchange for relief from international sanctions.

His analysis aligns closely with that of Prime Minister Benjamin Netanyahu at a time the Israeli leader is hopeful that US President Donald Trump can negotiate changes to the deal. The issue has sparked some debate inside Israel's security community, with some voices pointing to positive aspects of the deal in that it has delayed Iran's nuclear development.
Trump's ultimatum
Trump has set a mid-May deadline for changes while also threatening to withdraw from the deal. However, it remains unclear whether a compromise can be reached, and how Iran would react.

Trump's disdain for the deal has been a welcome development for Netanyahu. The Israeli leader was a leading opponent of the deal, saying it did not contain sufficient safeguards to prevent Iran from reaching the capability to develop nuclear weapons as the agreement's restrictions expire.

Israel and Iran are arch enemies, and Israel has identified Iran as its top threat, citing the nuclear program, its hostile rhetoric, support for anti-Israel terrorist groups and its development of long-range missiles.

Yet the deal has also set off debate within Israel's security ranks. As head of a powerful agency and a close aide to Netanyahu, Cohen is an influential voice.

Other officials, however, both active and former, have taken a more nuanced approach by focusing on the positive aspects of the deal.

In a recent interview, IDF Chief of Staff Lt.-Gen. Gadi Eisenkot told the Haaretz newspaper that he knows of no violations of the nuclear deal by Iran, though he said Israel is closely watching and assuming Iran can operate secretly.

"If its intentions change, we will know. Right now the agreement, with all its faults, is working and is putting off realization of the Iranian nuclear vision by 10 to 15 years," he was quoted as saying.