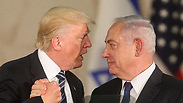 Trump (L) and Netanyahu
Photo: AFP
A phone call Wednesday between US President Donald Trump and Prime Minister Benjamin Netanyahu grew tense because of the Israeli leader's concerns that the US will withdraw from Syria and allow Israel's enemies to gain a further foothold in a neighboring country, two US officials said.

An official statement put out by the Prime Minister's Office, however, offered a different account in saying Prime Minister Netanyahu thanked President Trump for his commitment to Israel's security.

The statement made no mention of any tension between the two leaders, hitherto considered quite close, instead saying, "Prime Minister Netanyahu spoke with President Donald Trump about regional developments and Iran.

"Prime Minister Netanyahu thanked President Trump for his commitment to Israel's security and America's support for Israel at the United Nations. The two leaders agreed to continue the close coordination between the two states in order to repel Iran's aggression and its attempts to destabilize the region."

The Associated Press's report, however, shows that a sizeable portion of Netanyahu's conversation with the American president dealt with the latter's intentions of withdrawing American forces from Syria.

Trump has signaled to his advisers, it was reported, that ideally, he wants all troops out within six months, according to three US officials—a finale that would come shortly before the US midterm elections.

But the president has given no formal order to pull out the 2,000 US troops currently in Syria, nor offered a public timetable, other than to say the United States will pull out just as soon as the last remaining Islamic State (IS) fighters can be vanquished.

In his haste to withdraw from Syria, Trump stands alone. The Pentagon, the State Department and CIA are all deeply concerned about the potential ramifications if the US leaves behind a power vacuum in Syria, as are Israel, Arab leaders and other nations in the US-led coalition that has fought IS in Iraq and Syria since 2014.

The president made clear his patience was running out as he met top national security aides on Tuesday. Yet the meeting concluded with no hard-and-fast deadline handed down, leaving Trump's team struggling to deduce how fast is fast enough for the president, according to officials briefed on the meeting who weren't authorized to discuss it and requested anonymity.

Urging him to slow down, Mr. Trump's aides have been emphasizing that IS fighters remain active in Syria, evidence that Trump's own, publicly stated objective—the total defeat of IS—has yet to be met.

Officials said the US is tracking two pockets where IS remains viable—one in the Middle Euphrates Valley Region, another along the Iraq-Syria border. And despite the White House's insistence that the group is "almost completely defeated," a string of renewed IS attacks in recent weeks has raised fears about a resurgence.