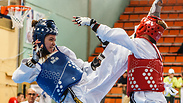 Avishag Samberg
Photo: Israeli Taekwondo Federation
Israelis barred entrance to Tunisian taekwondo World Junior Championships
Despite agreeing to participate with no Israeli markers on their uniforms, Israeli delegation to world taekwondo junior championships denied visas by Tunisian authorities, which claim forms were not submitted on time; chairman of Israel's taekwondo federation landed in Tunisia with French passport to attend world federation's assembly, but was expelled to Paris.
In another instance of an all-too-frequent injection of politics into sports, Israel's Taekwondo Junior National Team was denied a permit to enter Tunisia to participate in the sport's 2018 World Junior Championships, set to open in the North African country, and in another competition held there simultaneously in preparation for the Youth Olympic Games.

Heads of the sport in Israel completed in advance registration for the Israeli athletes, some of whom compete in the sport's highest levels and have notched accomplishments in the international arena.

In addition, the sorting competition for the Youth Olympic Games began in Tunisia Friday, with success in the contest providing entry to the games, held in Argentina between the 6 and 18 of October.




The Israeli delegation to the Tunisian tournament was to include Avishag Samberg, who won a bronze medal in the previous Junior World Championships in November, 2016, and in the European championships of this past November.

Samberg is also an Olympic hopeful in taekwondo, in the under 49kg category.

Apart from Samberg, the delegation was also to include European cadet champion Tom Pashevsky (competing in the under 45kg category in the world championship and under 48kg category in the Olympic sorting), deputy European cadet champion Dana Azran (under 73kg in world championship, under 67kg in Olympic sorting) and Nicole Adamsky (under 52kg in world championship, under 55kg in Olympic sorting).

Registration forms were sent ahead of time, enclosed with requests for visas to Tunisia for the Israeli delegation. After a prolonged period of Tunisian officials ignoring the request, however, the Israelis were promised to be granted visas and for the taekwondo experts to be allowed to compete with no Israeli insignias or symbols.

The Israeli delegation indeed agreed to compete without state flags or the writing "Israel" on their dobok uniforms, and without the Israeli anthem being played should one of them win gold, but Tunisian authorities refused to allow them to compete nonetheless, alleging the forms were sent in too late.

An Israeli taekwondo official was incensed, saying, "We sent all of the forms on time, including registration. We did everything in an orderly fashion to be granted visas. They never responded, and then promised we'll get the visas. Now they're lying and saying we failed to submit on time."

Chairman of the Israeli Taekwondo Federation Michel Madar, who also serves on the board of World Taekwondo—previously World Taekwondo Federation—arrived to Tunisia with his French passport and in a professional capacity, in order to attend the world federation's general assembly.

Madar also attended the conference hoping to attain approval for the Israeli delegation to enter the country. When the Tunisian airport official noticed Madar's French passport was issued in Jerusalem, however, police officers placed him on a plane and unceremoniously expelled him back to Paris.

Heads of the Israeli Olympic Committee have begun operating on the matter, bringing into the fold International Olympic Committee and World Taekwondo officials as well.

"We have done everything by the book, waited on the visas for ages and never got them, despite agreeing to compete without Israeli symbols. This is very serious," the Israeli taekwondo official concluded.