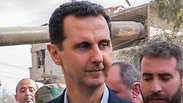 Assad visits Syrian troops in eastern Ghouta
Photo: AFP
The Syrian government said it would start negotiations on Sunday with the rebel group Jaish al-Islam, hours after dozens of people were reportedly killed in a suspected chemical attack on the enclave the group controls outside Damascus.

There was no immediate comment from Jaish al-Islam, which said the government carried out the chemical attack in the town of Douma. At least 49 people were killed, according to a medical relief organization and Douma's civil defense rescue service.

Damascus has denied mounting any such attack and said the rebels in Douma, who are massively outgunned and completely encircled, were collapsing and spreading false news.

"Jaish al-Islam terrorists have requested negotiations with the Syrian state, which will start the talks within two hours from now (local time)," state TV cited an official source as saying on Sunday morning. Negotiations are now underway, according to the pro-Syrian opposition Orient television.

The US State Department said reports of mass casualties from the alleged chemical weapons attack in Douma were "horrifying" and would, if confirmed, "demand an immediate response by the international community."

"The Assad regime and its backers must be held accountable and any further attacks prevented immediately," said US State Department spokeswoman Heather Nauret, recalling a 2017 sarin gas attack that the West and the United Nations blamed on Assad's government.

"The United States calls on Russia to end this unmitigated support immediately and work with the international community to prevent further, barbaric chemical weapons attacks," Nauert said in a statement.

Russia rejected the claims the Syrian regime used chemical weapons. "We firmly deny this information," said General Yuri Yevtushenko, head of the Russian Center for Reconciliation of the Warring Sides in Syria, in comments reported by news agencies.

"We are ready, once Douma is freed from militants, to immediately send Russian specialists in radiation, chemical and biological defense to collect data that will confirm these claims are fabricated," he added.

In a joint statement, the Syrian American Medical Society, the relief organization, and Douma's civil defense service said medical centres had received more than 500 cases of people suffering breathing difficulties in Douma on Saturday evening, frothing from the mouth and smelling of chlorine.

One of the victims was dead on arrival, and six died later, it said. Civil defense volunteers reported more than 42 cases of people dead at their homes showing the same symptoms, it said.

Reuters could not verify the reports. The Syrian Observatory for Human Rights said 11 people had died of suffocation but could not say if chemical weapons had been used.

President Bashar Assad has won back control of nearly all of eastern Ghouta in a Russian-backed military campaign that began in February, leaving just Douma in rebel hands. After a lull of a few days, government forces began bombarding Douma again on Friday.

The offensive in Ghouta has been one of the deadliest of the seven-year-long war, killing more than 1,600 civilians, according to the Syrian Observatory for Human Rights.