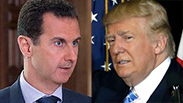 Assad (L) and Trump
Photo: AP
President Donald Trump on Sunday condemned a "mindless CHEMICAL attack" in Syria that killed women and children, but he offered no evidence to support the claim by Syrian opposition activists and rescuers that poison gas was used.
A top aide, asked about the possibility of a US missile strike in response, said, "I wouldn't take anything off the table." Trump, without elaboration, said there would be a "big price to pay" and he called Syrian President Bashar Assad an "animal."
Just over a year ago, Trump ordered dozens of cruise missiles to be fired at a Syrian air base after declaring there was no doubt Assad had "choked out the lives of helpless" civilians in an attack that he said used banned gases.
Saturday's attack took place in a rebel-held town near Damascus, the capital, amid a resumed offensive by Syrian government forces after the collapse of a truce. Syrian activists, rescuers and medics said a poison gas attack killed at least 40 people, with families found suffocated in their houses and shelters.
The reports could not immediately be independently verified.
Images released by the Syrian Civil Defense White Helmets, a volunteer organization, show children lying on the ground motionless and foaming at the mouth.
The Assad government, in a statement posted on the state-run news agency SANA, strongly denied the allegations.
Trump said in a tweet Sunday that the "area of atrocity is in lockdown and encircled by Syrian Army, making it completely inaccessible to outside world." He said Russian President Vladimir Putin and Iran, influential Syrian backers, "are responsible for backing Animal Assad."
Russia's military rejected claims that Syrian government forces used chemical weapons.
Trump called for the area to be opened "immediately" for medical aid and verification.
"Another humanitarian disaster for no reason whatsoever. SICK!" he tweeted.
Trump's homeland security adviser, Thomas Bossert, noted the timing of the suspected chemical attack — almost a year to the day of the US missile strikes.
"This isn't just the United States. This is one of those issues on which every nation, all peoples, have all agreed and have agreed since World War II, it's an unacceptable practice," Bossert told ABC's "This Week."
Asked about the potential for another American missile strike in response, Bossert said: "I wouldn't take anything off the table. These are horrible photos. We're looking into the attack at this point." He said Trump's national security team has been talking with the president about the situation.
Aftermath of chemical attack in Syria (צילום: רויטרס)
Trump laid some blame on his predecessor, Barack Obama, for Assad's continued grip on power after years of civil war.
Obama had threatened the Syrian leader with military action after a chemical weapons attack killed hundreds outside Damascus, saying the use of such weapons was a "red line." American ships in the Mediterranean were poised to launch missiles, but Obama pulled back after key US ally Britain, as well as Congress, balked at his plan.
He opted for a Russian-backed proposal that was supposed to remove and eliminate Syria's chemical weapons stockpiles.
"If President Obama had crossed his stated Red Line In The Sand, the Syrian disaster would have ended long ago! Animal Assad would have been history!" Trump said in his series of Sunday tweets.
The developments come as Trump is moving to dramatically scale back US goals in Syria, pushing for a quick military withdrawal. Trump has given no formal order to pull out the 2,000 US troops currently in Syria or offered a public timetable, other than to say the United States will pull out as soon as the last remaining Islamic State fighters can be vanquished.
But Trump has signaled to his advisers that ideally, he wants all troops out within six months, The Associated Press has reported.
"It is time to move that pendulum back in a way that brings regional partners and others with equities in these matters all around the globe into putting their resources and their treasure and their boys and girls on the line, and not just American troops," Bossert said.