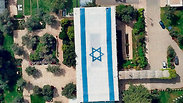 Israeli flag atop the President's Residence
Photo: Yedioth Ahronoth
A special undertaking by textile manufacturers, rappelling experts and the IDF's satellite unit concluded last week with the unfurling of a giant Israeli flag atop the roof of the President's Residence in Jerusalem, ahead of Israel's 70th Independence Day next week.

The huge 1,500 square meter flag, was placed on the residence's roof—ten meters high—using a crane and can be seen from outer space by a satellite. It weighs 270 kilograms and was manufactured in the northern region's Krayot over ten working days.

Aside from the difficult manufacturing process, bringing it into the residence was proved a challenge since it could not fit into the security screening machine. The president's security detail thus had to close the road near the residence for several minutes, take the flag apart and pass through screening piece by piece.

Director-General of the President's Residence Harel Tubi, who presided over the flag operation, said last week, "We sought to create this unique flag, visible by satellite from space, as an expression of the pride and joy of this special time, Israel's 70th, which has filled us with Israeli pride over 70 years of creation and activities in all areas."
Ben Gurion's image screened on eponymous airport's ATC
The visage of Israel's first prime minister David Ben Gurion, in whose name the country's major airport was named, will be screened on its air traffic control tower in the coming weeks as part of the Independence Day festivities.

The tower, which is 100 meters high, has also been lit up in blue-white and will be visible from nearby communities and the Jerusalem-Tel Aviv highway.

The gesture, orchestrated by the Israel Airports Authority, will be joined by a similar projection on the walls of Terminal 3 and on the Ilan Ramon memorial coordination tower, near the airport's parking plazas.
Videos presentations to be screened on walls of TLV buildings
A special event taking place in Tel Aviv's Rothschild Boulevard April 18-19 titled "We hereby declare—history comes to life" will present video mapping displays screened on the walls of dozens of buildings, which organizers said will "tell the story of the State of Israel in a way that has not been told or seen up to now."

A promotional video for the video exhibits

Festivities will take place on the initiative of the Jerusalem and Heritage Ministry, in conjunction with the World Zionist Organization, the Zionist Council and the Tel Aviv municipality.

Organizers promised that, "On Independence Day's eve and after the holiday, Tel Aviv's Rothschild Boulevard will go back in time, transforming into a historic, nostalgic complex presenting the State of Israel in its infancy.

"The unique event will allow the general public to experience the state as it existed in its early years and years forward, using spectacular 3D video mapping installations on a scale never before seen in Israel, as well as a nostalgic fair, folk dancing and more, they said.

Some of the presentations will include the Declaration of Independence being screened in Rothschild 16, on the walls of Independence Hall, to be read by a variety of Israelis from all walks of life and using motifs from old posters.

The spontaneous displays of joy breaking out immediately following the declaration will be shown on Rothschild 4, alongside actual mass folk dancing groups. Rothschild 19, meanwhile, will screen a clip paying homage to the different waves of Aliyah, tracing their routes to Israel.
Elkin: 'An experience of light, color, history and nostalgia'
The famed vote on independence in the United Nations General Assembly will be shown on Rothschild 20, transforming the building to a gigantic radio from which the historic vote's voices and images will emanate. Rothschild 29, meanwhile will show display that's all about Tel Aviv itself, and its White City.

The face to face buildings of Rothschild 7 and 8 will show Israel then and today: the past, present and changes in the interim. In addition, a graphic display on stylized backgrounds and Israeli flags will be shown on several other structures. These short clips will be screened every three minutes, with virtual Israeli flags unfurled on the buildings when they conclude.

Jerusalem and Heritage Minister Ze'ev Elkin promised that visitors on Israel's birthday to the coastal city would be sure to enjoy the exhibits and displays. "Anyone coming (to Tel Aviv) on Independence Day and immediately thereafter will enjoy this experience of light, color, history and nostalgia," he said.

"Anyone attempting to convince us we live in a post-Zionist era and that Tel Aviv and Zionism no longer connect, Tel Aviv as well as the Israeli public will provide a crushing response: Zionism is alive and well in the first Hebrew city. Non-stop Zionism in Israel's non-stop city," Elkin concluded.

Amihai Attali, Korin Elbaz Alush, Itay Blumenthal and Gilad Carmeli contributed to this report.