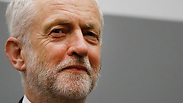 Israeli Labor party breaks off relations with Britain's Corbyn
In letter to the British Labour leader, a vehement critic of Israel who has upset Jews in the UK over a slew of anti-Semitic-related incidents, Avi Gabbay scorns Corbyn for 'very public hatred' towards Israeli government policies; slams his failure to address 'anti-Semitic statements and actions' within his party.
Israel's Labor party said on Tuesday it had suspended relations with British Labour party leader Jeremy Corbyn, accusing him of sanctioning anti-Semitism and showing hatred towards Israeli policies.

"It is my responsibility to acknowledge the hostility you have shown to the Jewish community and the anti-Semitic statements and actions you have allowed as leader of the Labour party UK," Israeli Labor Party leader Avi Gabbay wrote in a letter to Corbyn, distributed to the media.


Corbyn, the British opposition leader who unexpectedly became party head in 2015, is a supporter of Palestinian rights and a vocal critic of Israel, has repeatedly faced accusations of turning a blind eye to anti-Semitic comments in the party and among groups he supports.

Last month, British Jewish groups held a street protest outside parliament against Corbyn, accusing him of failing to tackle anti-Semitism in party ranks because of a far-left world view hostile to Jews.

"As Israel approaches Holocaust and Heroism Remembrance Day this week, we are reminded of the horrors of anti-Semitism in Europe and our commitment to combating anti-Semitism of all forms and in all places," Gabbay's letter said.

"As such, I write to inform you of the temporary suspension of all formal relations between the Israel Labor party and the leader of the Labour Party UK."

Gabbay said Corbyn had shown "very public hatred" towards Israeli government policies including those where the opposition and the ruling coalition are aligned.

Israeli Labor is part of the "Zionist Union" faction in Israel's Knesset that controls 24 of the legislature's 120 seats.