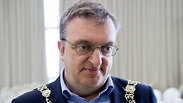 Dublin Mayor Mícheál Éamonn Mac Donncha
Photo: AP
Dublin Mayor Mícheál Éamonn Mac Donncha addressed an Palestinian Authority (PA) international conference in Ramallah on Wedneeday, despite Interior Minister Aryeh Deri instructing authorities to stop him from entering Israel.

Speaking ahead of a speech by President Mahmoud Abbas, he boasted at the conference that his city's council adopted a resolution calling for the expulsion of Israel's ambassador to Ireland.

The symposium focuses on Jerusalem's significance in the eyes of Palestinians and the Islamic religion in general. This year, following US President Donald Trump's recognition of Jerusalem as Israel's capital, the conference was titled, "Jerusalem is the eternal capital of the State of Palestine."




"As you know, while I was in Ramallah preparing for the conference last night, it was reported that the Israeli Ministry for Strategic Affairs announced I was to be denied entry, but here I am, and I'm very pleased to be here," Donncha said in his opening remarks.

He accepted the Palestinian invitation, he explained, because "Dublin's city council voted to voice solidarity with the people of Palestine, and denounced the disavowal of their rights by successive Israeli governments.

"Dublin called (on the sides) to attain a peaceful solution through negotiations. The city council also denounced Monday the killing of two Palestinians in Gaza by the Israeli army, and called to expel the Israeli ambassador form Ireland," he added.

Assuring his listeners that Dublin sends its support to the Palestinian people, Donncha then slammed any attempt by one side to control Jerusalem.

"Jerusalem is of paramount importance in the world. I think an attempt by any one state or religion to exclusively reign supreme over Jerusalem is wrong. The American recognition of Jerusalem as Israel's capital is therefore very wrong," he said.

"We are also aware of reports of intentions to change Israel's basic laws and the ramifications that will have on those of other religions as well as Palestinians. A hundred years ago, these two peoples—the Irish and the Palestinians—were victims of imperialism when their rights to self determination were taken away," he declared.

Later Wednesday, Coordinator of Government Activities in the Territories (COGAT) Maj.-Gen. Yoav Mordechai wrote on COGAT's Arabic-language Facebook page that, "The mayor of Dublin participated in a Ramallah conference in which the mufti who met with Hitler had a starring turn.

"I wonder if the honorable Mícheál Mac Donncha chose the event and its timing intentionally or not," Mordechai added in reference to Israel's marking of Holocaust Remembrance Day.

"Perhaps tomorrow's siren will remind him that (Mufti) Amin al-Husseini met with the mass murderer Adolf Hitler, and then he'll try to come up with things to tell his city's Jewish community," he said.

"Mac Donncha has shown miserable naiveté, or perhaps it isn't naiveté after all. Factually speaking, he has found himself in a conference glorifying a war criminal," COGAT's post concluded.