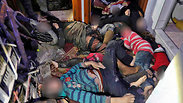 Damascus suburb Douma was the site of alleged chemical weapons use by Assad
Photo: AP
Chemical warfare watchdog says Douma mission to proceed as planned
Fact-finding mission by Organization for Prohibition of Chemical Weapons to proceed with planned inspection of Douma, site of alleged chemical weapons attack by Syrian President Assad's regime; 'No doubt' about Assad's complicity with attack, France says, while British PM May vows retaliatory strike not about 'civil war, regime change' but deterring further use of chemical weapons.
A global chemical warfare watchdog group said its fact-finding mission would go ahead as planned in Douma, where the apparent use of poison gas against civilians on April 7—which killed more than 40 people—compelled the Western allies to launch their attack. Damascus and Moscow deny blame for any such attack.
Security permitting, the Organization for the Prohibition of Chemical Weapons' (OPCW) fact-finding mission "will continue its deployment to the Syrian Arab Republic to establish facts around the allegations of chemical weapons use in Douma" on Saturday, the agency said in a statement.
Scenes from the alleged chemical attack in Douma (צילום: רויטרס)
Syria agreed to give up its chemical weapons arsenal in 2013 and submit to OPCW inspections. It is meant to have destroyed all of its stockpiles of nerve agents. In the case of chlorine, it is permitted to possess it for civilian use, but not to use it as a weapon.
The OPCW will determine whether chemical weapons were used in the country's protracted civil war, but will not assign blame.
Despite a US-Russian agreement to completely eliminate Syria's chemical weapons program after hundreds of people were gassed with sarin in Ghouta on August 21, 2013, the OPCW had been unable to verify that all manufacturing, storage and research facilities were destroyed.
Among the sites reportedly hit overnight Friday was the Scientific Studies and Research Center (SSRC), a facility that has played a key role in Syria's chemical weapons program since the 1970s.
OPCW inspectors have raised questions about the SSRC since 2013, when Damascus joined the 1997 Chemical Weapons Convention and agreed to do away with its stockpile to avert threatened strikes under President Barack Obama.
Syria has been unable to explain several findings by inspectors, including undeclared research and development sites, the presence of banned chemicals and missing munitions, sources have told Reuters.
France: 'No doubt' Assad regime behind Douma attack
Washington says it has confirmed that chlorine gas was used in the April 7, 2018 attack in Douma, and has unconfirmed suspicion that nerve agents may also have been used.
But France's foreign minister said there was "no doubt" the government of Syrian President Bashar al-Assad was responsible, and threatened further retaliatory strikes if chemical weapons were used again.
"On the intelligence collected by our services, and in the absence to date of chemical samples analyzed by our own laboratories, France considers, beyond possible doubt, a chemical attack was carried out against civilians at Douma ... and that there is no plausible scenario other than that of an attack by Syrian armed forces," according to a declassified intelligence report.
"After examining the videos and images of victims published online, (intelligence services) were able to conclude with a high degree of confidence that the vast majority are recent and not fabricated," the report said.
Launch of French missile during US-led strike on Syria
The report added no deaths from mechanical injuries were visible and all symptoms were characteristic of a chemical weapons attack, particularly choking agents and organophosphorus agents or hydrocyanic acid.
"Reliable intelligence indicates that Syrian military officials have coordinated what appears to be the use of chemical weapons containing chlorine on Douma, on April 7," it said. It gave no other details on the intelligence.
The report, which provided a broad outline of the Syrian government-backed offensive supported by Russia on the eastern Ghouta region over recent months, also said French services had assessed that not all Syrian government chemical stockpiles and capacities had been declared to the UN.
Syria had omitted to declare many of the activities of its SSRC, the report said.
It said Syria had not answered questions on matters including possible remaining stocks of yperite (mustard gas) and DF (a sarin precursor), undeclared chemical weapons of small caliber and signs VX and sarin on production and loading sites.
British PM May: Strike not about 'civil war, regime change'
Britain participated in the US-led strike on Syria Saturday by firing air-launched cruise missiles to cripple President Assad's chemical weapons facilities and prevent what Prime Minister Theresa May cast as a global slide towards their greater use.
Four Royal Air Force Tornado jets from the Akrotiri base in Cyprus fired Storm Shadow missiles at a military facility near Homs, where it was assessed that Syria had stockpiled chemicals, Britain's Ministry of Defense said.
May said the strike was "limited and targeted" and came after intelligence indicated that Syrian military officials had coordinated a chlorine attack in the Damascus suburb of Douma on April 7.
Missile attacks by the United States, France and Britain had been aimed at deterring Assad's further use of chemical weapons and was not an attempt to topple the Syrian government, May said. The mission had been a success, she added.
"This is not about intervening in a civil war. It is not about regime change," May said in a statement made from her country residence at Chequers just minutes after US President Donald Trump announced the strikes from the White House.
May later told reporters in her Downing Street office that the Western missiles struck a chemical weapons storage and production facility, a chemical weapons research center and a military bunker involved in chemical weapons attacks.
By launching strikes without prior approval from parliament, May dispensed with a non-binding constitutional convention dating back to the 2003 invasion of Iraq. She said speed was essential and that military action was in the national interest.
"It was both right and legal to take military action," May said, adding that she would update parliament on Monday.
The Western missile strikes demonstrate the volatile nature of the Syrian civil war, which started in March 2011 as an anti-Assad uprising but is now a proxy conflict involving a number of world and regional powers and a myriad of insurgent groups.
Assad, May said, should not doubt the resolve of Britain, France and the United States but made clear that the strike was a specific response to the Douma attack that killed up to 75 people, including children.
May dismissed as "grotesque and absurd" a claim by Russia—which intervened in the war in 2015 to back Assad—that the Douma attack was staged by Britain. But she declined to give any signal about the future of Assad.
'Right and legal'
May referred specifically to last month's nerve agent attack on former spy Sergei Skripal and his daughter in the southern English cathedral city of Salisbury that she has blamed on Russia. Moscow has denied any involvement.

"We cannot allow the use of chemical weapons to become normalized "either within Syria, on the streets of the UK or elsewhere," May told reporters in Downing Street.

She said almost a century of global acceptance about not using chemical weapons had been eroded in Douma and Salisbury.

May said Britain and its allies had sought to use every diplomatic means to stop the use of chemical weapons, but had been repeatedly thwarted, citing a Russian veto of an independent investigation into the Douma attack at the UN Security Council this week.

"So there is no practicable alternative to the use of force to degrade and deter the use of chemical weapons by the Syrian regime," she said.