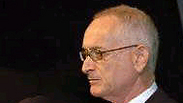 Haaretz publisher Amos Shocken
Photo: Moshe Milner, GPO
Haaretz publisher derided for 'racist' tweet
Responding to commenter criticizing a Haaretz weekend supplement that crowned Israel's national anthem the 'most hated Israeli song,' publisher Amos Shocken tweets, 'My family was part of Zionism's leadership while you were still climbing trees'; after public outcry, Shocken backtracks and claims he meant to point out 'ignorance.'
Scathing criticism on social media over a Haaretz article prompted publisher Amos Shocken to tweet a racist attack over the weekend, only to delete it later.

The cover story for Haaretz's main supplement this past Friday, in anticipation of Israel's 70th Independence Day, was dedicated to "Selecting the most hated Israeli song."

Under the headline, "This tune has to stop (urgently)!", several of the newspaper's reporters selected an Israeli song they detested. Topping the list was Israel's national anthem "HaTikva," alongside Naomi Shemer's seminal Six Day War-era song "Jerusalem of Gold."

The newspaper's editors also added a feature to the supplement, published under the headline "The day Ben Gurion was hung," describing in great detail how the execution of first prime minister David Ben Gurion, along with other senior officials from Israel's nascent period including Yitzhak Sadeh, Yigal Alon and Menachem Begin, would've looked like.

The article was accompanied by an illustration showing Israel's founding father hung from the gallows.

The supplement aroused outcry on social media in short order, with many users criticizing the paper. Responding to one of them, Ravit Dahan, Shocken tweeted, "You're insolent. My family was part of Zionism's leadership while you were still climbing trees.

"Haaretz has been in the Shocken family for the past 83 years, and we have gotten on fine without your ideology, and will continue to do so."

A short time later the Haaretz publisher deleted the tweet, possibly realizing his mistake, but many of his followers were appalled by the utterance nonetheless.

Israel Radio presenter Keren Neubach, for instance, wrote, "Blatant and shameful racism. The tweet exposes what Shocken really thinks about parts of the Israeli public."

Avi Dabush, who ran for the Meretz party's leadership in a race eventually won by Tamar Zandberg, tweeted, "We may have 'climbed down' from trees 70 years ago and came to Israel, but it appears it will still be some time before we pass the absurd admission committee headed by Amos Shocken."

Later comment from Shocken himself sought to clarify he deleted the tweet once he realized it was ascribed meaning he did not intend, stating he merely wished to point out the commenter's "ignorance."