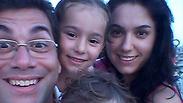 Marcel Konomi and his family
From a communist country to the Jewish state
Marcel Konomi grew up in Albania, where citizens had little political and religious rights; the difficulties continued even after the country opened up to the West in the 1990s, and he and his wife decided to make aliyah to give their children a better future.
Marcel Konomi got to see what a real communist country looks like. Growing up in the Albanian capital of Tirana in the 1980s, he experienced firsthand the nature of a closed country where citizens have very little political and religious rights.

"Things changed in 1990," he says. "There were significant reforms and we felt things opening up. That was also when I discovered that my maternal side of the family was Jewish. Many relatives, who I first learned were Jewish, took advantage of the freedom to immigrate to Israel."

Click here for the full project

Despite the relative freedom, Konomi says there were many difficulties in the 1990s too, mainly financial difficulties.

"I decided to go study business administration in Greece and returned to Tirana five years later. I found out that there had been a real improvement. The city was moving somewhat closer to the status of other cities in Europe, and I began my banking career," he says.
Financial difficulties and public corruption
But Konomi realized that the poor country was closing in on him in every way. He describes "a lot of financial difficulties, a lot of corruption and few opportunities for the young generation. The Jewish community is tiny."

He got married and had two children. "My wife and I gave quite a lot of thought to their future. Two and a half years ago, we decided they would be better off in Israel. I contacted the Jewish Agency and we made the move."

Did you know Israel?

"I had visited the country several times before and I have quite a big family here, mainly in Be'er Sheva. When we made aliyah, we visited them and lived in the city for a while.

"The family, together with the Immigrant Absorption Ministry, were very helpful to us during the first months, which weren't easy. There are language and mentality barriers, and we are trying to adapt to them.

"After several months, we started looking for work and realized that most jobs in the financial area, which we specialize in, are in the center. We found jobs and moved to Petah Tikva to be closer to our workplaces."

How do you summarize the decision so far?

"The bottom line is that it's a positive experience. The children have adapted very well, they speak Hebrew and feel good. There are still quite a few difficulties, and we still have to get used to a atmosphere which is different from the one we lived in until now, but I'm glad to be in the Jewish state and connect to my roots."