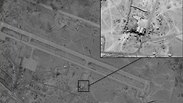 IRGC's Aerospace Force contingent in Syria exposed
Analysis: Amid foreboding Iranian omens of impending reprisal for alleged Israeli attack on T-4 Airfield in Syria, Quds Force leads move that may take place in near future using drones, even rockets launched at Israel. Iranian airmen now stationed at 5 Syrian airfields, ready to direct such attack at Israel. Despite this, Tehran's leadership still split on approach to Israel, as President Rouhani's pragmatists battle Soleimani's hard-line camp for supremacy.
Israel is preparing for possible Iranian retaliation to a strike on the T-4 military base in Syria, vowing a harsh reprisal for any Iranian attack emanating from Syrian territory.

The strike, which has been attributed to the IDF, killed 14 military personnel at the base, seven of them Iranians, including the commander of the Revolutionary Guards' drone force.

According to Israeli assessments, Commander of the Islamic Revolutionary Guard Corps (IRGC)'s Quds Force Qasem Soleimani is planning a retaliatory attack that would be launched out of an Iranian base in Syria using precision-guided missiles or armed drones—to be launched directly by the Revolutionary Guards rather than by proxies, as they have done before.

"The IDF will do everything to ensure Independence Day will be quiet, and that the citizens of Israel are able to enjoy the holiday. The IDF is prepared for a wide variety of scenarios, so the citizens of Israel can properly celebrate the 70th Independence Day," a security official said.

The IDF has apparently prepared a response to potential Iranian retaliation, which could undermine the fragile control of the regime of Syrian President Bashar Assad has achieved some 70 percent of Syria, with the help of the Russians and the Iranians.

Israel is preparing for a direct retaliatory attack from the Revolutionary Guards—rather than Hezbollah or other Shiite militias in Syria—because of the presence of IRGC's aerial branch in Syria, which has entrenched itself in Syria with a unity of purpose: to carry out an offensive terror attack against Israel using drones, rockets and missiles.

The Iranians, it appears, are no longer willing to exclusively rely on Hezbollah or other 'emissaries' but intend to do the job themselves. This strategic escalation was masterminded by Soleimani, who enjoys a direct channel to Iran's supreme religious and political leader, Ayatollah Ali Khamenei.

The Revolutionary Guards' aerial arm serves as Soleimani's contractor in this instance, then. While the Guards' Aerospace Force does not possess fighter jets per se, it boasts three forces, one of which includes drones—both for intelligence collection purposes and for aerial assaults.

The commander of the drone unit, Col. Mehdi Dehghan, was killed last week in the aforementioned strike on the T-4 base southeast of Homs, where the drone unit was headquartered.
Missiles and aerial defense
The Iranian air force's second unit has short and medium-range surface-to-surface missiles, including Fateh-110s missiles and Fajr-5 rockets, as well as Shahab ballistic missiles, whose range is more than 1,300km, rendering them capable of reaching Israel.

Iranian retaliatory action against Israel in the past has used IRGC rockets and missiles. The action took place February 2015, initiated and commanded by senior Quds Force official Saeed Izadi, head of the Force's Palestinian Division.

Izadi recruited Palestinian Islamic Jihad operatives staying in Syria to act as his point men on the operation, and they fired rockets and missiles received from IRGC's Syrian contingent from Syria at Israel's Galilee region.

The 2015 launch also came in retaliation and reprisal for an Israeli offensive against Hezbollah chiefs and an Iranian brigadier-general as they were patrolling the Israeli border in the Golan Heights in preparation for terror attacks.

Hezbollah also carried out its own reprisal at the time, since the Israeli attack claimed not only the Iranian brigadier-general as well as senior Syrian army officials, but also Jihad Mughniyah, son of the former head of the Hezbollah's military apparatus Imad Mughniyah, who was assassinated himself in 2008.

The 2015 retaliation marked, in fact, the first time a senior Revolutionary Guards official was directly involved in initiating and directing an action against Israel. The first time the Guards' air force was utilized against Israel, however, came much later—in February of this year—when an armed drone was launched at Israel.

The IDF located the drone, however, shot it down and then carried out an operation to destroy its launch trailer as well, where its IRGC operators were stationed. The ensuing confrontation led to the downing of one of the Israeli F-16s participating in the strike by Syrian missile fire as it was flying over Israel.

The Revolutionary Guards also possess a third unit for aerial defense and detection of planes and other aircrafts, headed by Ali Akbar Sidon, and a portion of it has already reached Syria as well.

Heading the Aerospace Force of the Islamic Revolutionary Guard Corps and the man tasked with operating it against Israel is Gen. Amir Ali Haji Zada.

The Revolutionary Guards airmen have been stationed in five Syrian airfields: the aforementioned T-4 airbase, a base in Aleppo, a base in Deir ez-Zor, the Damascus International Airport and the Sayqal airfield south of Damascus.


Each of the five locations now houses an Aerospace Force unit to receive Russian-made Ilyushin Il-76 model military transport planes carrying missiles and other armaments for Hezbollah or missiles and drones to be used directly by IRGC's people.

At the outset of the war in Syria, IRGC operatives fought Syrian rebels, but following the Russian entry into the conflict on Assad's side, the Iranian airmen focused on preparations for attacking Israel from Syrian soil.

It may be assumed that the Revolutionary Guards' military arm was intended to serve as the long arm of Iran against Israel—both in times of war and to carry out routine aerial terror and missile attacks.

In general, a clear Iranian strategic trend has become evident over the past few years—one seeking to confront and combat Israel on its own territory to deter it from harming the country's military nuclear program and strategic ballistic missile programs.
The split within the Islamic republic
Simply put, the Iranians have opened a direct front against Israel in the Golan Heights by placing the Aerospace Force there. This trend has not gone unnoticed by the IDF, with some experts in the field saying with some degree of satisfaction that the Iranian entrenchment in Syria also has some advantages, since it allows Isrel to exercise its full power against Iranian forces whenever it chooses quickly and with maximal accuracy.

A former Israeli Air Force commander said recently that in order to get to the T-4 Airbase, as well as other airfields where Iranians have congregated—or to installations where pro-Iran militias are housed—Israel no longer needs to fly hundreds of kilometers, refuel midair and face a reckoning from Iran's heavy antiaircraft batteries. It could, he said, be done relatively easily, simply and cheaply when they are stationed in Syria.

Direct Iranian activities in Syria—which Israel has expediently amplified in global public opinion—allow Israel to pressure and threaten both the Assad regime and Syria, and even the Iranians themselves and Hezbollah.

The aforementioned factors are all interested—and it is, in fact, their chief interest—in preserving and promoting relative stability in Syria. Russia, Assad and Iran alike will not be able to realize their economic assets or rake in income from Syria's rehabilitation unless Syria is stable. A state of active warfare will make it hard for them to withdraw funds.

Iran's leadership is split, it should be noted, between President Hassan Rouhani's pragmatist camp—interested in improving the economic fortunes of the Iranian people—and the Revolutionary Guards and Qasem Soleimani, who have adopted a militant, radical line and are chiefly interested in war against Israel and in Iranian hegemony in the Middle East.

Israeli publications regarding said direct Iranian involvement, moreover, were released some two weeks before US President Donald Trump is expected to announce in Washington whether the United States is withdrawing from the 2015 Iranian nuclear deal.

Trump's decision is a sore spot for Iran, and Israel is leveraging that fact to remind them that reprisals against the country may sway the American president's decision to withdraw from the nuclear deal, a move that will effectively cripple the Islamic republic's economy.