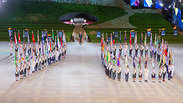 Rehearsals for the event
Photo: TPS
Torch-lighting ceremony opens 70th Independence Day celebrations
The Israeli flag was once again raised full mast, kicking off the country's 70th Independence Day celebrations; 12 torches were lit, symbolizing Israel's 12 tribes, while army privates swore an oath to defend the country on the ceremony's plaza; Knesset Speaker Edelstein called for unity: 'Variety is the source of our power'; PM Netanyahu: 'The light of the menorah burns brighter than ever before. If we are forced to defend ourselves, we shall live up to the challenge.'
The State of Israel launched its 70th Independence Day celebrations on Wednesday evening with a torch-lighting ceremony on Mount Herzl in Jerusalem.

The ceremony was the biggest and most expensive in Israel's history. It featured 1,500 participants, including leading performers, 150 musicians, 400 choir singers, 350 dancers and hundreds of flag-bearers. The audience, meanwhile, numbered over 6,500 people, almost twice as many as past torch-lighting ceremonies.

Prime Minister Benjamin Netanyahu, whose very participation in the ceremony caused a stir over the past few weeks, lit a torch on behalf of Israel's governments throughout its 70 years and delivered a 14 minute speech in which he called to settle disputes within Israel with mutual respect.

"Some seek to extinguish the light coming from Zion," he declared. "It will not happen."

Knesset Speaker Yuli Edelstein also spoke at the ceremony and lit a torch. In his own speech, he wished to continue to see people "standing their ground, but only through listening and a respectful discourse."

In his own torch lighting, Israeli crooner Shlomo Artzi lit a torch for all ethnicities and denominations, and called for the country to be inclusive and not racist—a place where every person can speak their minds freely.

This year's ceremony was somewhat eclipsed by the controversy engendered when the premier's attendance was announced by Culture Minister Miri Regev, prompting Speaker Edelstein to say he will not be attending if Netanyahu does.

Traditionally, sitting prime minister do not attend the ceremony—over which the Knesset speaker usually presides—to avoid politicizing it. Edelstein and Regev eventually agreed on new regulations, saying the prime minister will light a torch and attend every round independence day, thereby paving the way for Netanyahu to participate.

Knesset Speaker Edelstein nevertheless spoke first, and said, "Variety is the source of our power and complexity is our growth engine." In his speech, the speaker touched on the variety of Israel's citizens and said links between them were the secret to Israel's charm.

"The links between the head cover and the baseball cap, between those who guard the walls and those who blaze a trail, between those who live in a world of study and those who live in a world of cyber—from every single one of them, our society emerges like a wondrous mosaic of tribes and tones, beliefs and opinions, lands of origin and ways of life," he added.

Edelstein also gave his opinion of strife within Israeli society when he said, "I hope we can continue seeing people stay firm in their opinion, while listening and holding a respectful discourse. How great our shared treasures of culture and spirit are, gathered here from all four corners of the world, how great our different faces are. How great our different opinions are! If we believe in that wholeheartedly, walls will fall, partitions will be removed and the Israeli wonder will keep on happening."
PM Netanyahu: Even when there is strife, it will be dealt with mutual respect
Prime Minister Netanyahu spoke after Edelstein. "In the year 70, Judea came to ruin. In the year 70, the menorah was extinguished," he said. "But today, in the seventieth year of Israel's independence, the menorah is the symbol of our state and its light shines brighter than ever. Even today some seek to extinguish the light of the menorah, to extinguish the light coming from Zion. I assure you, it will not happen. It will not happen because our light will always overcome their darkness."

He continued, "When David Ben Gurion announced Israel's founding he was not averse to doing so, even when he knew a serious war will soon follow. Today, we are not afraid of a struggle against those who wish to annihilate us, because we know defending ourselves with our own power is the very essence of independence.

"We are more determined than ever, stronger than ever. The secret of our strength lies in our cohesion, in the justness of our path, in our soldiers—these modern-day Maccabees—with love of country coursing through their veins. If we are forced to defend ourselves, we shall rise to the challenge."

Netanyahu also touched on strife within Israel's different sectors. "Even when disagreements emerge, and how can they not in our vibrant democracy, we will manage them with mutual respect," he said, "united in the knowledge we have but one home."

The premier concluded his speech—which was supposed to last only five minutes—by thanking US President Donald Trump for his decision to move the American Embassy to Jerusalem, and said that Israel has been experiencing unprecedented political flourishing and was a rising power.

"Admiration for Israel has finally seeped through to Arab countries," he stressed. "Here, I believe, are the true seeds of peace. Our hand is extended in peace to all of our neighbors who desire peace, and to our enemies who believe we a transitory phenomenon—I have news for you. In seventy years more, you'll find a country seven times as strong. What we have done up until now is just the beginning. The menorah of Israel will stay alight forever."

Also lighting torches are musician Shlomo Artzi; actors Ze'ev Revach and Leah Koenig; senior Palmach and IDF officer Gen. (Res.) Yeshayahu (haika) Gavish; Haredi hi-tech worker Racheli Ganot; Cpt. Noam Gershuni, a former combat helicopter pilot wounded in the Second Lebanon War; Margalit Zinati, member of ancient Jewish family that has been maintaining Jewish presence in the Galilee continuously since the days of the Second Temple; Druze spiritual leader Sheikh Mowafaq Tarif; Prof. Marcelle Machluf, the Dean of the Faculty of Biotechnology and Food Engineering at the Technion; Prof. Aviezri Fraenkel, one of Israel's first computer science researchers; Mai Korman, a high school student with hearing impairment who developed a unique notification system to alert parents if they had forgetfully left a child in the car; and linguist Dr. Avshalom Kor.

The commander of the commando Egoz Unit, Lt. Col. Roy Levy was chosen by IDF Chief of Staff Gadi Eisenkot to light a torch at the ceremony. Despite being critically wounded during Operation Protective Edge in 2014, Levy fought to return to service and take on a combat command position. Levy will be joined by Maj. Gen. (ret.) Yeshayahu Gavish, who was the GOC Southern Command during the 1967 Six-Day War.

In addition to the torch-lighting ceremony, IDF soldiers put on a marching display, during which they formed elaborate shapes.

Singer Sarit Hadad opened the ceremony with a rendition of Danny Robas's song "Names and Faces," accompanied by a powerful video featuring the faces and names of all 23,546 fallen soldiers from 1948 to the present.

Other performers included Orna and Moshe Datz, Haim Moshe, Miki Gavrielov, Amir Dadon, Israel's representative to the Eurovision Netta Barzilai, Yishai Levi and Hatikva 6.

The song "Hallelujah," which won the Eurovision for Israel in 1979, was performed at the event and in 20 other locations in Israel and abroad at the same time, with a new verse written by Shimrit Or.

The ceremony also featured all of the vocal choirs in Israel, including 250 teenagers and 150 adults. Music was provided by 150 musicians from the IDF Orchestra, the Israeli Andalusian Orchestra, and the Raanana Symphonette.

Ceremony director Ran Tsahor promised to make this year's event unique and especially moving while telling the story of the people of Israel and the State of Israel from the establishment of the state to this very day, using pyrotechnics, music, dancing and video art.

He also said the fireworks display at the end of the ceremony is will be 10 times bigger than in the past, with effects the likes of which are used in Olympic Games opening ceremonies. Ten pyrotechnic towers surrounded the audience, creating fire displays timed with music throughout the show. Drones flew overhead and created light displays.

Across the country, Israelis made their way to city squares where performances, booths, dancing and other activities were waiting for them, alongside local fireworks displays put up by each city.

Celebrations will continue on Thursday morning, starting with a ceremony at the President's Residence in Jerusalem at 9am. During the ceremony, President Reuven Rivlin will award the Medal of Excellence to 120 soldiers and officers of the IDF.

Prime Minister Benjamin Netanyahu, Defense Minister Avigdor Lieberman, IDF Chief of Staff Gadi Eisenkot and other dignitaries will be in attendance.

Starting at around 9:30am, the Israel Air Force will conduct a fly-over air show consisting of several types of planes and helicopters, which will travel the length of the country as a salute to Israel and its citizens.

The International Bible Quiz will take place at 1:15pm at the Jerusalem Theater. Prime Minister Netanyahu is expected to attend.

The final major event of the day will be the Israel Prize ceremony at the International Conventions Center in Jerusalem on 7:30pm. Prime Minister Netanyahu will be in attendance.