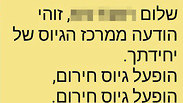 Reservists call up message
Hundreds of IDF reservists were called up for service on Thursday morning by accident, the IDF Spokesman's Office said.

Reservists from the 98th Division received the call up message early Independence Day morning, but the IDF stressed there was no reservists call up.

"Due to an error, an automatic message went out to reservists. We would like to make it clear this is a malfunction that will be examined," the IDF said, adding it ruled out a cyber attack.

Text message calling up the reservists said that "emergency call up has been activated."

"You are to report immediately to the meeting place," the message said. "Reminder, you are to bring your protection kit and your military kit."

Another message was sent shortly later cancelling it and explaining that the call up had been an error.

The call up message came amid high tensions on the Syrian border, after an attack on the T-4 military complex in Syria, which is used by Iranian forces, was attributed to Israel, prompting vows of reprisal from Tehran.

The Wall Street Journal reported the target of the attack was an advanced Iranian air-defense system that was recently installed.

The surprise attack was launched last Monday in central Syria near Homs on a base that was used by militias controlled by Tehran, and was originally attributed to the US, which flatly denied the accusations. Shortly after, Iran, Syria and its patron Russia pointed the finger squarely at Israel.

According to official reports, the attack claimed 14 lives, including seven Iranian "military advisors." US officials also indicated that the Israeli Air Force was behind the attack, but Jerusalem declined to confirm or deny the reports.

AFP contributed to this report.