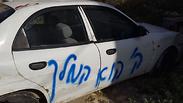 Right-wing extremists filmed slashing tires in Palestinian village
Graffiti also sprayed on vehicles and homes calling for expulsion and death for 'terror supporters' in the Palestinian village of Burqa; attack comes as Shin Bet warns of spike in number of hate crimes carried out by Israeli extremists in West Bank.
Police are investigating a possible hate crime that took place overnight Thursday after several suspicious individuals entered a Palestinian village east of Ramallah and punctured car tires and sprayed hateful slogans on dozens of vehicles and homes.

Two suspects were caught on CCTV cameras slashing the tires of vans in the village of Burqa.

CCTV footage

"God is the king," "Stop the administrative orders" and "Here live terror supporters to be expelled and killed" were the slogans that were scrawled on the homes and cars.


Israeli security forces were called to the scene and launched an investigation into the matter.

The IDF and police have issued repeated warnings in recent weeks against acts of violence and vandalism carried out by Israeli right-wing extremists, which risks sparking an escalation in violence in the West Bank as Israel faces a volatile Gaza border.

A string of hate-related incidents have aroused the IDF's attention in the West Bank in recent weeks.

Two assailants were captured on security camera overnight last Friday setting fire to the front door of a mosque near Nablus.

In the CCTV footage, recorded directly above the door, the arsonists could be seen approaching the entrance of the mosque in the village of Kfar Aqraba, and covering it with flammable substances before igniting the flames by throwing a match.

The Shin Bet has recorded a spike in the number of hate incidents perpetrated against Palestinians since the beginning of the year, when compared with last year.

While by April 2017 the security forces recorded 8 instances of hate crime, 12 have already taken place this year, which have included nationalistically-motivated attacks on Palestinian property.

According to the Shin Bet, 63 administrative restriction orders were issued last year against extremist right-wing activists, while 13 have been issued so far in 2018.

The Shin Bet statistics also show that this year five terror attacks have been carried out against Palestinians, which were believed to have been committed by Jewish activists, while only two were carried out throughout the entire last year.

Security forces said that the arson attack in Kfar Aqraba constituted an escalation in the severity of the nature of the attacks, since it was launched not merely against private property, but against a place of worship—the first since June 2015 when the Church of Loaves and Fishes on the shores of the Sea of Galilee in northern Israel was set alight.

"Past experience shows that a series of incidents of property destruction rapidly deteriorate into more severe incidents of arson, and even worse," said one security official.

Extremist acts of violence by the right-wing activists has also not been restricted to Palestinians, with Israeli military officers also falling prey.

A group of soldiers, for example, who arrived at an illegal outpost that was established near Itamar, were attacked by a pack of extremists who threw rocks at them and used pepper spray against them. Fearing for their lives, the soldiers were eventually forced to respond by firing shots into the air.