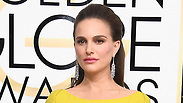 Natalie Portman
Photo: Getty Images
Dear Ms. Portman,

Your decision not to attend a ceremony to receive the Genesis Prize in Jerusalem is shameful.

The statements made by your press representatives saying that "Recent events in Israel have been extremely distressing to her and she does not feel comfortable participating in any public events in Israel" failed to even highlight what it was that apparently made you feel uncomfortable and therefore those statements themselves lacked any conviction.

Your attempts to mitigate the damage you caused to Israel and its soldiers and to temper those angered by your decision to effectively join the BDS movement added insult to injury, and only made your original press statement infinitely worse.


In your own words, you have chosen not to attend the ceremony because you "did not want to appear as endorsing Benjamin Netanyahu, who was to be giving a speech at the ceremony."

This rationale is absurd. In what way does a citizen of a country attending a ceremony to receive an apolitical prize, attended by its democratically elected leader, reflect an endorsement of that leader?

By dint of the fact that you are Israeli, are we to assume that you must be a supporter of Netanyahu? Does the fact that you walk the US's streets make you afraid that you may be seen to be endorsing Donald Trump? Should the fact that you starred in Hollywood movies lead us to the conclusion that you support the unpleasant facts that have surfaced about it?

In posing these questions, in no way is it my intention to draw any positive or negative moral equivalence with endorsing Prime Minister Netanyahu.

You have decided to treat Israel's democratically elected leader as a pariah, to shun him as if he is a brutal dictator whom you would be endorsing if you attended the ceremony, where he would no doubt have lavishly praised your achievements.

You attempted to rebut the accusations that you have, as Culture and Sports Minister Miri Regev accurately put it, "fallen as a ripe fruit into the hands of BDS supporters."

"Like many Israelis and Jews around the world, I can be critical of the leadership in Israel without wanting to boycott the entire nation. I treasure my Israeli friends and family, Israeli food, books, art, cinema, and dance," you said.

You are, of course, within your rights to be critical of the Israeli leadership. Indeed, you are well within your rights to pursue the path you have chosen, however reprehensible it may be. That is the nature of a democracy. However, do not expect to try and pull the wool over the eyes of those who surely know why your statement about still cherishing Israel is at best disingenuous and demonstrably hypocritical.

You would, of course, cherish "books, art, cinema and dance" because you are well aware that not to do so would mean that your own career would be in jeopardy. Obviously you would not want anyone who enjoys your work to boycott it for fear that they may be seen to be endorsing Israel, governed by Netanyahu.

It is somewhat surprising that you still cherish your Israeli friends and family since I assume that they served, or still serve, in the IDF, either in reserve or mandatory service. That same IDF, I assume, is the army carrying out what you described as "violence" and "atrocities." Perhaps you are incapable of discerning the contradiction. Or more likely, perhaps it is convenient for you to ignore it.

If you feel so passionate in your opposition to Netanyahu's policies, Israel affords you the democratic rights not to vote for him and to vocalise and explain your thoughts.

Instead of doing so, you chose to boycott a ceremony which "honors individuals who have attained excellence and international renown in their chosen professional fields, and who inspire others through their engagement and dedication to the Jewish community and/or the State of Israel."

By doing so, you have fully and unwittingly endorsed the BDS movement, which, by adopting your own self-righteous rationale, should boycott your movies.

Its followers don't cherish Israel, its families, books, cinema and dance because they believe that all Israeli citizens are, ipso facto, criminals, and their mandatory service in the IDF makes them war criminals.

Your statement also sadly attests to the shortfall in your knowledge about Israel's founding. It was not "created as a haven for refugees from the Holocaust." Explaining the full breadth of this erroneous claim would probably require that you read a history book, albeit not one written by an Israeli, especially one who may support Netanyahu. Had it been for that reason, however, Israel would have been established no later than 1941 or 1942 when the Final Solution was fully underway.

Finally, you said that "the mistreatment of those suffering from today's atrocities is simply not in line with my Jewish values. Because I care about Israel, I must stand up against violence, corruption, inequality, and abuse of power."

No one could argue that standing up to the latter three in any society is a noble mission, but to insinuate that Israel is carrying out atrocities and violent acts is the worst form of slander of its troops.

When Israeli Olympic judoka Ori Sasson won a bronze medal in 2016, he proudly represented the State of Israel. No one assumed he was representing or endorsing Netanyahu or any other Israeli politician.

When he spoke to Netanyahu in a televised phone call, he demonstrated humility, class and respect and his response encapsulated the characteristics and spirit that make Israel a proud nation.

"I first of all want to say thank you to the prime minister. It is a privilege and a huge honor to represent the country and the true face of Israel and I hope to continue to do this. Thank you," Sasson said. At no point could anyone infer that he was endorsing Netanyahu. But he showed the due respect to a democratically elected leader which your fame and evidently accompanying hubris has clearly diminished.

Netanyahu told Sasson that "Every boy and girl in Israel who saw you saw not only a great sportsman but a man with values. You showed the true face of Israel, the beautiful and proud face of a strong state that advocates peace."

You, Ms. Portman, were once worthy of such compliments. However, you have chosen not to show Israel's true face, but your own - that of a BDS stooge. By doing so, you have added another scar to Israel's true face by taking an unjustifiable swipe at its courageous soldiers, who seek to prevent atrocities and violence against your cherished Israeli family and friends while you sanctimoniously choose to judge them.

In doing so, you have joined the ranks of the worst of Israel's foes, from the boycotters to the so-called new historians who slam Israel in international forum and smear its reputation in academia. You need no longer worry that anyone may mistake you for an ambassador of Netanyahu. But you are certainly no longer an ambassador for Israel.