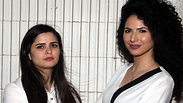 Amna Freige and Lina Jeries who had to go through a security check naked
Photo: Yariv Katz
Amna Freige, the daughter of Meretz MK Esawi Freige, says she had to go through a humiliating security check at Ben-Gurion Airport earlier this month because she is of Arab descent.
Freige and her friend Lina Jaries had booked flight tickets to Berlin for a vacation. They say they were harassment began as soon as they arrived at the airport.
Their personal belongings were checked and they were asked to go through a full body scanner, just like other passengers. But then security personnel asked them to remove their bras.
According to Freige and her friend, the security team's shift manager threatened that if they don't comply with the security check, they would not be allowed to board their flight.
At this point Amna called her father who recommended: "Just suck it up if you want to be on that flight." And so the young women had to go through the security check naked.
They are currently preparing a lawsuit against the Israel Airports Authority, claiming there was no justification for that particular security check and that the entire incident was an unnecessary humiliation.
The Israel Airport Authority said, "When we get a specific warning, a security check is required."